coconut chicken rice paper rolls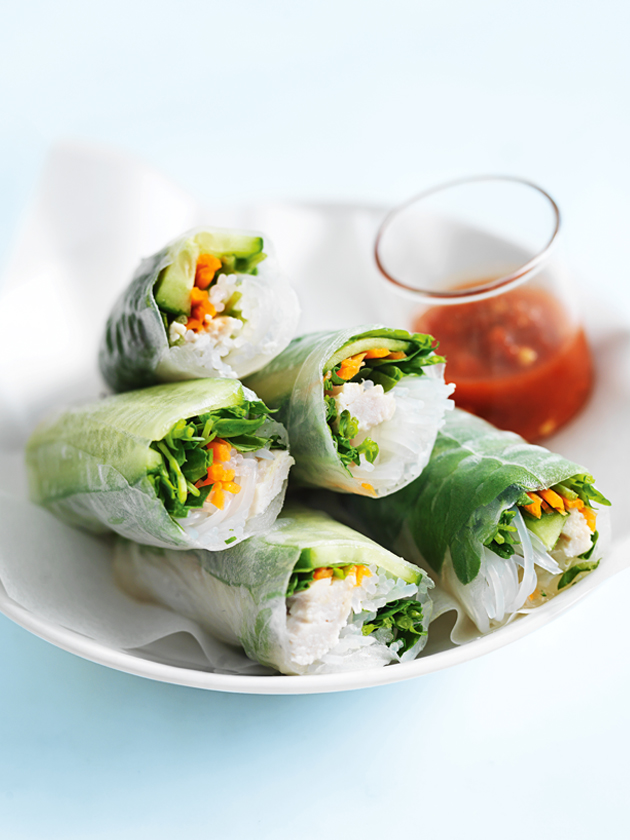 400ml can coconut milk

1 teaspoons finely grated lime rind

2 tablespoons soy sauce

500g chicken breast fillet, trimmed

12 small rice paper rounds+

100g vermicelli rice noodles, cooked and cooled

1 cup snow pea shoots

1 carrot, peeled and shredded

4 cukes, thinly sliced 1 cup

Thai basil leaves

2 long green chillies, seeded and thinly sliced lengthways

pickled chillies, to serve

Place the coconut milk, lime rind and soy sauce in a medium saucepan over medium heat and bring to the boil. Add the chicken, cover, reduce heat to low and cook for 15 minutes or until cooked through. Remove from heat, reserving ½ cup of the cooking liquid.

Shred the chicken and place in a large bowl with the reserved cooking liquid. Mix to combine.

To assemble, soften a rice paper round in warm water for 30 seconds or until soft. Remove from the water and place on clean damp tea towel. Top with the vermicelli noodles, snow pea shoots, carrot, cukes, chicken, basil and chilli. Fold the bottom edge over the filling, fold the 2 sides over to secure the filling and roll to enclose. Repeat with the remaining rice paper rounds and ingredients. Serve with pickled chilli. Makes 12.

+ Rice paper rounds are made from rice starch and available in the Asian aisle of the supermarket. They are packaged dried and need to be softened for about 30 seconds in warm water before using.
Tip: Roll the rice paper rounds on a clean damp tea towel to prevent them from sticking.
Tip: Keep the rice paper rolls under a clean damp tea towel so they don't dry out as you are rolling the remaining ingredients.
donna hay team
Hi Emilie, These are best assembled the day of eating to ensure they do not dry out or fall apart (if the vermicelli rice noodles are too wet). DH Team
Emilie Deacon
For kids lunches, how long in advance can these be assembled please? Thank you