crispy pork ramen
with chilli and garlic oil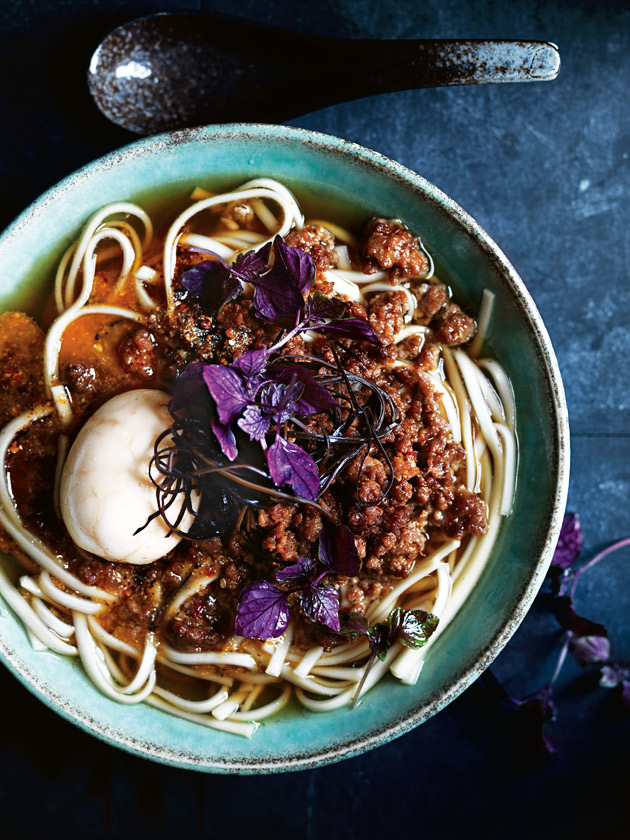 1 tablespoon vegetable oil

1 tablespoon finely grated ginger

400g pork mince

¼ cup (60ml) soy sauce

2 tablespoons mirin (Japanese rice wine)

460g dried udon noodles

1 x quantity hot ramen stock (recipe in link)

¼ cup (5g) dried arame (dried seaweed), soaked in water+

micro (baby) purple shiso, to serve

tea eggs++, to serve (recipe in link)

chilli and garlic oil
2 tablespoons vegetable oil

10 cloves garlic, crushed

6 dried chillies, chopped

2 tablespoons sesame seeds, toasted

2 tablespoons sesame oil

1 teaspoon sea salt flakes

1 small red chilli, sliced

To make the chilli and garlic oil, place the vegetable oil, garlic and dried chilli in a small non-stick frying pan over medium heat and cook for 4 minutes or until golden.

Transfer to a bowl and add the sesame seeds, sesame oil, salt and chilli. Using a hand-held stick blender, blend until finely chopped and set aside.

Heat the vegetable oil in a large non-stick frying pan over high heat. Add the ginger and pork and cook, breaking up any lumps with a wooden spoon,for 4 minutes. Add the soy sauce, mirin and 1 tablespoon of the chilli and garlic oil and cook, stirring, for a further 4 minutes or until crisp. Set aside and keep warm.

Cook the noodles in a large saucepan of boiling water for 4 minutes. Drain and refresh under cold water. Divide the noodles between serving bowls and ladle over the hot stock.

Top with the pork, remaining chilli and garlic oil, seaweed, shiso and tea eggs to serve. Serves 4.
+ We used dried arame, a type of sea kelp. To rehydrate, place in a bowl of cold water and set aside for 5 minutes. Drain before using.
++ We've used tea eggs, but you can also use regular soft-boiled eggs.
There are no comments for this entry yet.