crispy skin salmon with chilli salt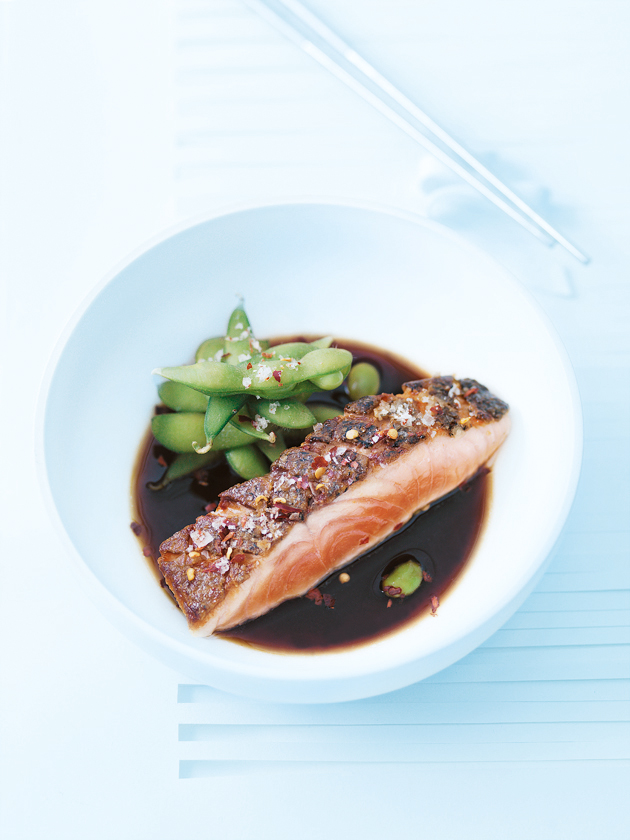 1 cup (250ml) dashi+

¼ cup (60ml) mirin

¼ cup (60ml) soy sauce

2 x 200g salmon fillets, skin on and halved lengthways

vegetable oil, for brushing

sea salt flakes

150g edamame beans++, blanched

chilli salt
1 tablespoon sea salt flakes

1 teaspoon dried chilli flakes

Place the dashi, mirin and soy in a small saucepan over medium heat and cook for 2–3 minutes. Set aside.
To make the chilli salt, place the salt and chilli in a bowl and mix to combine. Set aside.
Use a small, sharp knife to score the skin of the salmon. Brush with the oil and sprinkle with salt. Heat a large non-stick frying pan over high heat. Cook the salmon skin-side down for 3 minutes, turn and cook for a further 3 minutes or until cooked to your liking. Divide the salmon between bowls and spoon over the dashi sauce. Sprinkle with the chilli salt and serve with the edamame beans. Serves 4.
+ Bonito flakes are dried flakes of fish used to make the Japanese stock, called dashi. Dashi usually contains dried seaweed called kombu and dried Japanese mushrooms, but to make a cheat's version, bring 2 cups (500ml) water to the boil and add 2 tablespoons bonito. Remove from heat and stand for 5 minutes before straining. You can also buy dashi from the Asian aisle of the supermarket and Asian grocery stores.
++ Edamame beans are baby soy beans. You can buy them from Asian grocery stores. Although they are served in the pod, only eat the tender bean inside as the pod is tough and stringy.
There are no comments for this entry yet.