fennel, black pepper and lemon
slow-roasted pork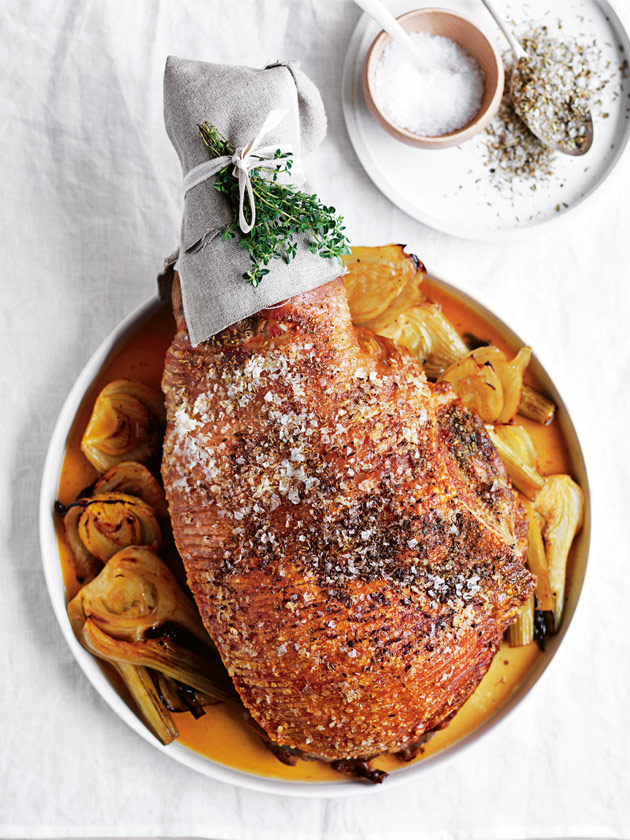 1 x 5kg pork shoulder, bone-in, skin on

1 tablespoon extra virgin olive oil

1 teaspoon ground black pepper

2 teaspoons fennel seeds, crushed

½ teaspoon coriander seeds, crushed

¼ cup (30g) sea salt flakes

4 strips lemon rind

4 small bulbs fennel, trimmed and sliced 2cm thick

¼ cup (90g) honey

2 cups (500ml) white wine

1 cup (250ml) water

Using a sharp knife, score the pork skin in 1cm intervals. Place the pork, skin-side up, in a large, deep-sided oven tray. Rub the pork with the oil, wrap the bone with non-stick baking paper and aluminium foil and set aside. Place the pepper, fennel seeds and coriander seeds in a mortar and coarsely grind with a pestle. Add the salt and mix to combine. Rub the spice mixture into the pork and set aside at room temperature for 30 minutes.
Preheat oven to 220°C (425°F). Cook the pork for 30 minutes. Reduce heat to 180°C (350°F) and cook for a further 1 hour 30 minutes. Remove the pork from the pan. Add the lemon, fennel, honey, wine and water and return the pork to the pan.

Increase oven temperature to 220°C (425°F). Cook for 45 minutes or until the skin is crisp and the fennel is tender. Remove from the oven and set aside to rest for 10 minutes. Serve with the fennel and pan juices. Serves 8–10.

Trudi Paton
I made this for our Christmas lunch. Altered it by slowing it down even further and cooking for 3 1/2 hours on 125 degrees instead of the 1 1/2 hours on 180 during the middle section of cooking. Family said it was the most delicious pork they'd eaten.