roasted salmon
with broccoli and israeli couscous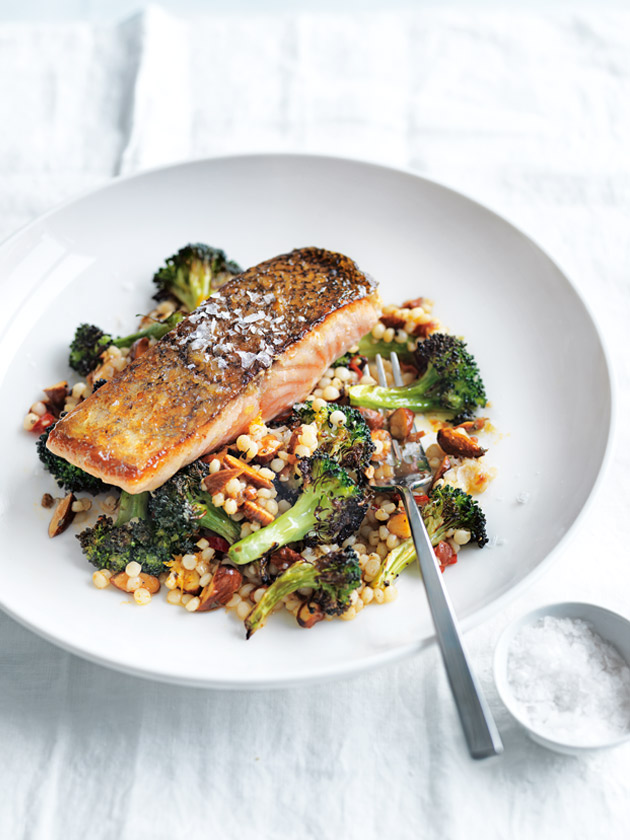 500g broccoli, cut into florets

¼ cup (60ml) extra virgin olive oil

1 long red chilli, sliced

⅓ cup (55g) almonds, chopped

sea salt and cracked black pepper

4 x 180g salmon fillets, skin on

¾ cup (150g) Israeli (pearl) couscous, cooked

¼ cup (65g) store-bought sundried tomato pesto

1 tablespoon finely grated lemon rind

1 tablespoon lemon juice

Preheat oven to 220°C (425°F). Place the broccoli, oil, chilli, almond, salt and pepper in a large bowl and toss to combine.

Place the broccoli mixture on a large oven tray lined with non-stick baking paper and cook for 6–8 minutes or until tender and charred.

Sprinkle the salmon with salt and pepper and place on top of the broccoli. Cook for a further 8–10 minutes or until the salmon is just cooked through.

Place the couscous, pesto, lemon rind, lemon juice and broccoli mixture in a large bowl and mix to combine. Divide the mixture between serving plates and top with the salmon.
Sprinkle with sea salt to serve. Serves 4.

Gemma' Williams
I didn't have any almonds, so I used pistachio instead, I pan fried the salmon rather then putting on top of the veg in the oven. Delicious and easy! Winner.
Cat G
Easy and delicious!.
Versatile meal for quick mid week lunch or dinner, and easy to serve for friends on weekend. Thank you DH