whole baked fish
with lemon salt and aioli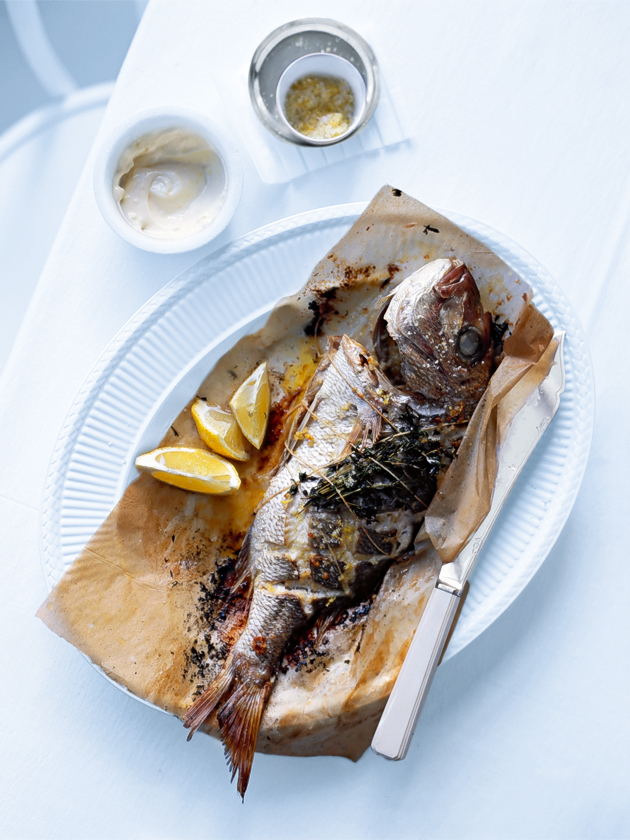 1 x 750g whole fish, such as snapper or bream, scaled and gutted+
100g softened butter
4 cloves garlic, crushed
lemon wedges, to serve
lemon salt
1 tablespoon finely grated lemon rind
2 tablespoons sea salt flakes
aioli
½ cup (150g) whole-egg mayonnaise
2 cloves garlic, crushed

Preheat oven to 200°C (390°F). To make the lemon salt, place the lemon rind and salt in a bowl and mix well. Set aside.

To make the aïoli, combine mayonnaise and garlic. Set aside. Use a small, sharp knife to make small slits in the fish skin. Combine the butter and garlic and spread ½ a tablespoon of the butter mixture in the cavity of the fish. Spread the remaining mixture over the fish. Place on a baking tray lined with non-stick baking paper and bake for 30–35 minutes or until cooked through. Serve with lemon salt, aïoli and lemon wedges. Serves 4.

+ Get your fishmonger to scale and gut the fish for you.
There are no comments for this entry yet.