ginger and miso glazed eggplant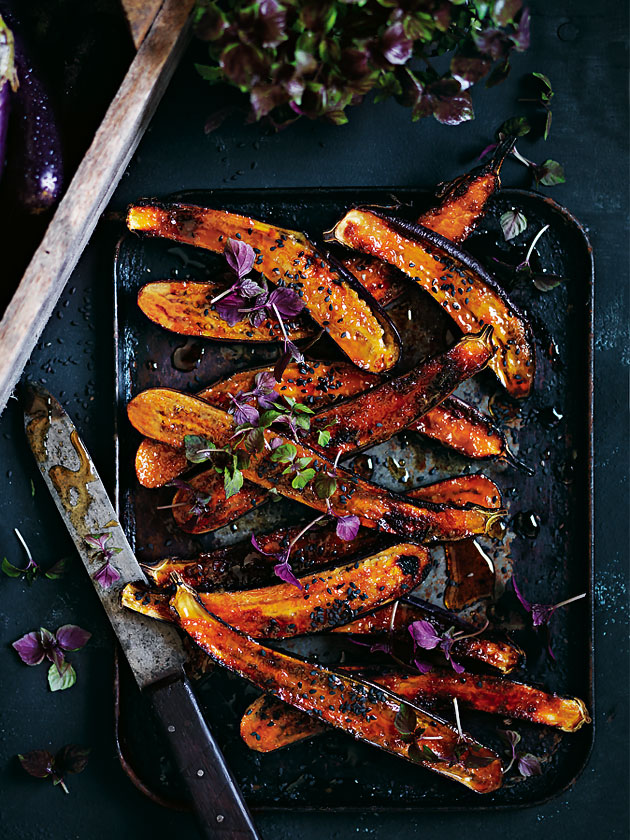 1 tablespoon mirin (Japanese rice wine)
2 tablespoons sake
2 tablespoons caster (superfine) sugar
¼ cup (80g) white miso paste
1 teaspoon finely grated ginger
8 Japanese (finger) eggplants+ (600g), halved
2 teaspoons sesame oil
black sesame seeds, toasted, to serve
dried bonito flakes++, to serve
baby (micro) shiso leaves (optional), to serve

Preheat a grill (broiler) to high. Place the mirin, sake, sugar, miso and ginger in a small saucepan over medium heat and bring to the boil. Cook, stirring, for 2 minutes and set aside. Brush the cut side of the eggplant with sesame oil.
Place, cut-side up, on a large oven tray lined with aluminium foil. Grill (broil) for 4 minutes or until lightly golden. Brush with the miso glaze and cook for a further 6–8 minutes or until golden and the eggplant is cooked through.
Sprinkle with the sesame seeds, bonito flakes and shiso to serve. Serves 4.
+ Japanese finger eggplants are also sold as 'Lebanese' eggplants. Find them in Asian grocers, greengrocers and some supermarkets.
++ Bonito flakes are Japanese dried fish flakes, available from specialty food stores and Asian grocers.