ginger and soy roast chicken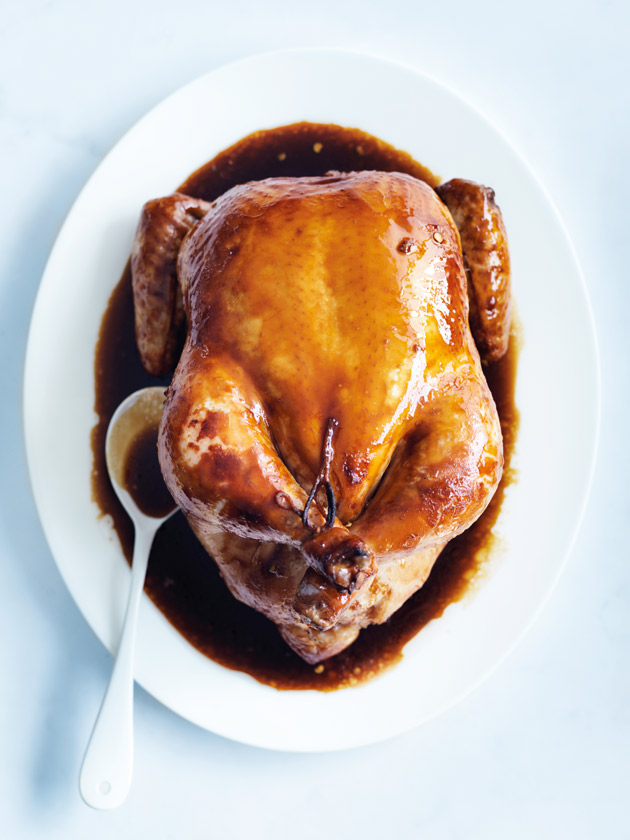 ½ cup (125ml) soy sauce
¼ cup (60ml) oyster sauce
½ cup (90g) brown sugar
¼ cup (60ml) rice wine vinegar
1 cup (250ml) water
1 x 4cm piece fresh ginger, peeled and thinly sliced
1 long red chilli, halved lengthways
1 x 1.8kg whole chicken
steamed rice, to serve

Preheat oven to 200°C (400°F). Place the soy sauce, oyster sauce, sugar, vinegar, water, ginger and chilli in a large heavy-based ovenproof saucepan over high heat and bring to the boil.
Place the chicken, breast-side down, in the pan. Baste the chicken with the cooking liquid, transfer to the oven and roast, uncovered, for 40 minutes. Carefully turn the chicken, breast-side up, and roast for a further 25–30 minutes or until cooked through.
Serve the chicken with the soy and ginger sauce and rice. Serves 4.

Fay Geurts
An absolute favourite in our home! We love to eat it like peking duck pancakes: with chinese pancakes, scallions, cucumber and hoisin sauce. Sometimes some mango of cilantro to funk things up.
Justine Mills
Such a great dish. So easy to make and the flavour is amazing. The chicken is so moist from being baked in the marinade/sauce. Will be on our regular menu at home for sure.