roasted garlic and rocket chicken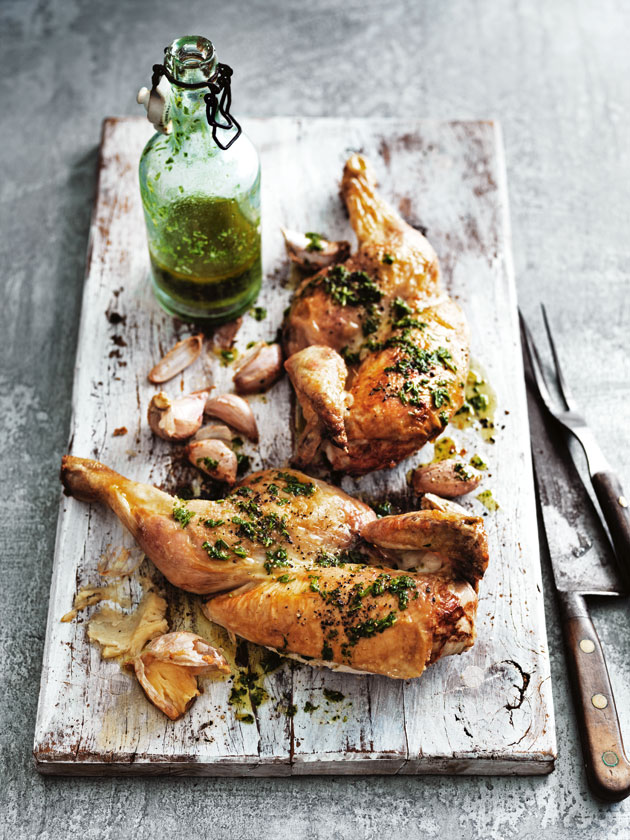 3 small heads garlic, cloves separated
2 tablespoons olive oil
sea salt and cracked black pepper
1 x 1.6kg whole chicken, butterflied (see cook's tip, below)
rocket dressing
1 cup baby rocket (arugula) leaves, finely chopped
2 tablespoons lemon juice
¼ cup (60ml) extra virgin olive oil

Preheat oven to 180°C (350°F). Place the garlic on a baking tray, drizzle with half the oil and sprinkle with salt and pepper. Place the chicken on top of the garlic and rub with the remaining oil, salt and pepper. Roast for 1 hour. Move the garlic from under the chicken to the edge of the tray and roast for a further 30 minutes, or until the chicken is golden and the garlic is tender.
While the chicken is cooking, make the rocket dressing. Place the rocket, lemon juice, oil, salt and pepper in a bowl and mix to combine. Serve the chicken with the roasted garlic and rocket dressing. Serves 4.

cook's tip: Butterflying a chicken allows it to cook faster and more evenly. To butterfly and flatten a chicken, position the chicken, breast-side down, on a board so the back is facing up and the drumsticks are facing towards you. Using sharp kitchen scissors or chicken shears, cut closely along either side of the backbone, remove the bone and discard. Turn the chicken, breast-side up, and press down firmly on the breastbone to flatten the chicken. Tuck the wings under the chicken before roasting.

There are no comments for this entry yet.