ginger chilli salmon with noodles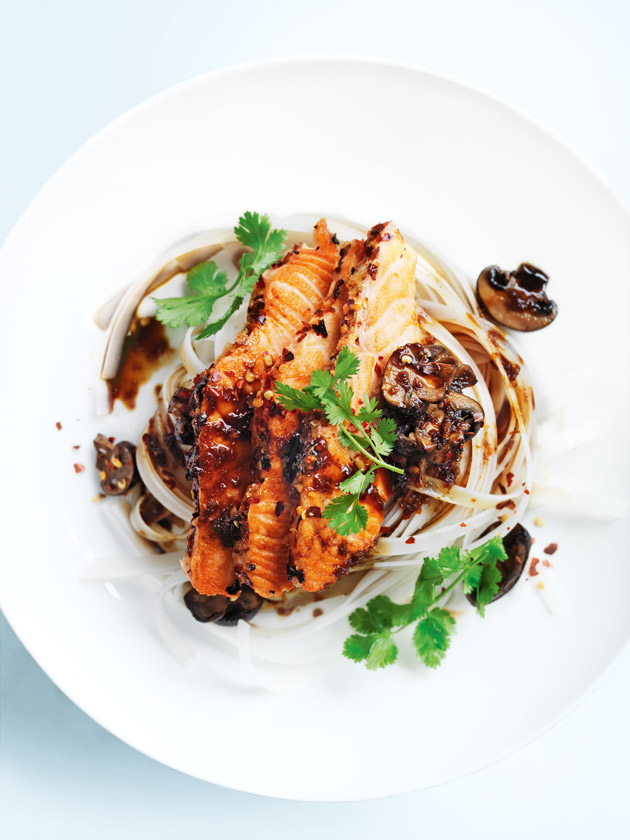 ¼ cup (60ml) kecap manis (sweet Indonesian soy sauce)
2 cloves garlic, crushed
3cm piece (15g) ginger, peeled and finely grated
½ cup (125ml) water
1 tablespoon dried chilli flakes
1 tablespoon sea salt flakes
4 x 180g salmon fillets, skin removed
1 tablespoon vegetable oil
200g Swiss brown mushrooms, halved
200g dried rice noodles, cooked
1 cup coriander (cilantro) leaves

Place the kecap manis, garlic, ginger and water in a bowl and mix to combine. Set aside.

Place the chilli and salt on a tray and mix to combine. Press both sides of the salmon into the chilli salt to coat. Slice each fillet into 1cm-thick pieces. Heat the oil in a large wok or non-stick frying pan over high heat. Add the salmon and cook, in batches, for 1 minute each side. Remove from the pan and set aside.

Add the mushroom and cook for 2 minutes. Add the sauce and cook for 4 minutes or until the mushroom is tender. Top the noodles with the salmon, mushroom and coriander to serve. Serves 4.

aine mcmahon-rivers
Try with zucchini/courgette noodles Just quickly stir fry the spiralled veg in small amount of olive oil for just a minute or so enough to just to heat up and avoid them going soggy
Lisa Donnellan
Quick and tasty, great salmon dish!
Julie Clark
Excellent flavour. I left the quite thin salmon in 2 pieces- cooked about 1.5 mins per side. Next time add a bit more water to the sauce so there's more to go around.