honey wood-smoked salmon
with quick-pickled tomato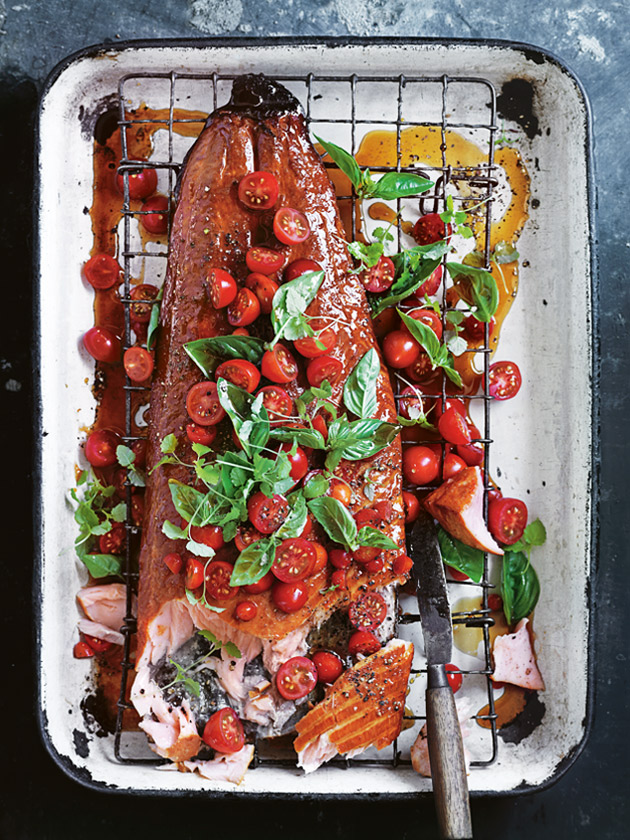 ½ cup (175g) honey

½ teaspoon smoked paprika

2 teaspoons Dijon mustard

1 clove garlic, crushed

1 x 1.2kg salmon fillet, skin on, pin-boned and trimmed

1 cup (200g) long-grain rice

3 cups (200g) smoking wood chips+

1 cup basil leaves, to serve

pickled tomato
500g baby Roma tomatoes, halved

¼ cup (60ml) red wine vinegar

2 tablespoons honey

1 teaspoon smoked paprika

sea salt and cracked black pepper

Place the honey, paprika, mustard and garlic in a small bowl and mix to combine. Place the salmon in a large deep-sided tray and brush with the honey mixture. Cover and refrigerate for 30 minutes.
Remove the salmon from the tray, reserving the marinade, and set aside. Pour the reserved marinade into a small frying pan over medium heat and cook for 1 minute or until the liquid is reduced. Set aside.

Place the rice and wood chips in a large deep-sided flameproof baking dish, double-lined with aluminium foil. Place a lightly greased wire rack into the baking dish, making sure it doesn't touch the smoking mixture. Place the baking dish over high heat. Once the mixture is smoking, place the salmon on the rack, skin-side down. Cover with aluminium foil or an upturned baking dish. Reduce heat to medium and smoke for 20 minutes. Remove from the heat and allow to stand, covered, for 10 minutes or until cooked through.
While the salmon is smoking, make the pickled tomato. Place the tomato, vinegar, honey, paprika, salt and pepper in a bowl. Toss to combine and set aside for 15 minutes to pickle. Remove the salmon from the rack, place on a platter and brush with the reduced glaze.
Serve with the pickled tomato and basil. Serves 6.

+ You can buy smoking wood chips from hardware stores and barbecue suppliers.
Tip: Ensure your kitchen is well ventilated when smoking the salmon.
There are no comments for this entry yet.