lemon, parmesan, kale
and ricotta fritters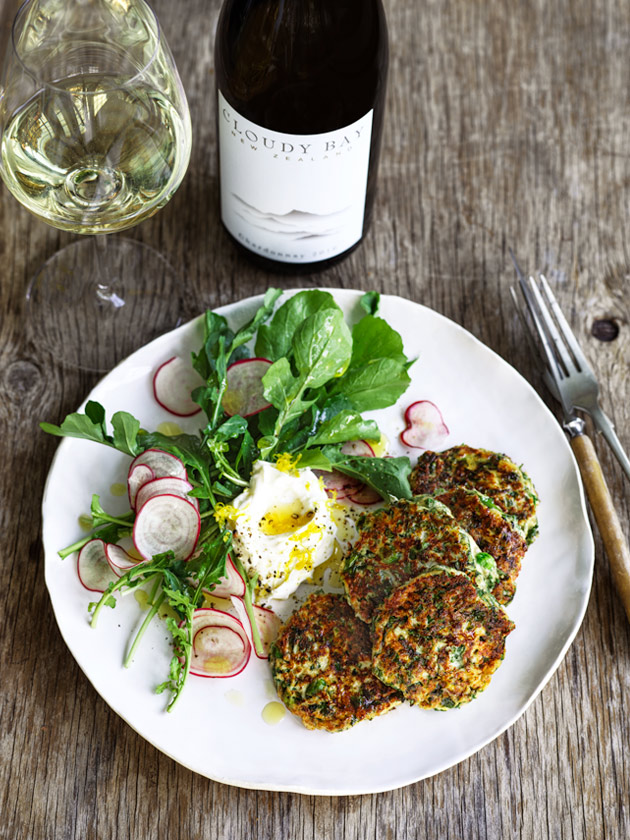 1 cup (120g) frozen peas, thawed and crushed

2 cups (100g) trimmed and finely shredded

kale leaves
1½ cups (360g) fresh ricotta
4 eggs
¼ cup (50g) chia seeds

1 tablespoon finely grated lemon

rind
⅓ cup chopped mint leaves
½ cup chopped flat-leaf parsley leaves

1 cup (80g) finely grated parmesan, plus

extra to coat
sea salt and cracked black pepper

¼ cup (60ml) extra virgin olive oil, plus

extra for drizzling
store-bought labne, to serve

baby rocket leaves and thinly sliced radish,

to serve
finely grated lemon rind, to serve
Place the peas, kale, ricotta, eggs, chia seeds, lemon rind, mint, parsley, parmesan, salt and pepper in a large bowl and mix to combine. Allow to stand for 20 minutes.

Place the extra parmesan on a small plate.

Shape 1½-tablespoon portions of the fritter mixture into rounds and flatten slightly into patties. Press each patty in the parmesan to lightly coat.

Heat a little of the oil in a large

non-stick frying pan over medium heat. Cook the patties, in batches, for 2–3 minutes each side or until golden, adding more oil as necessary.

Divide the fritters between serving

plates. Add the labne, rocket and radish. Sprinkle with lemon rind, salt and pepper and drizzle with extra oil to serve. Makes 16
Wine note: Creamy ricotta, the freshness of greens and a good dose of zesty lemon mean these fritters pair beautifully with a vibrant white, like Cloudy Bay Chardonnay. They let the expressive tones of orchard fruits shine in the wine, while not overpowering the gentle citrus florals and delicate notes of hazelnut.
Photography: William Meppem
There are no comments for this entry yet.