maple-glazed meatloaf
with crispy sage and pancetta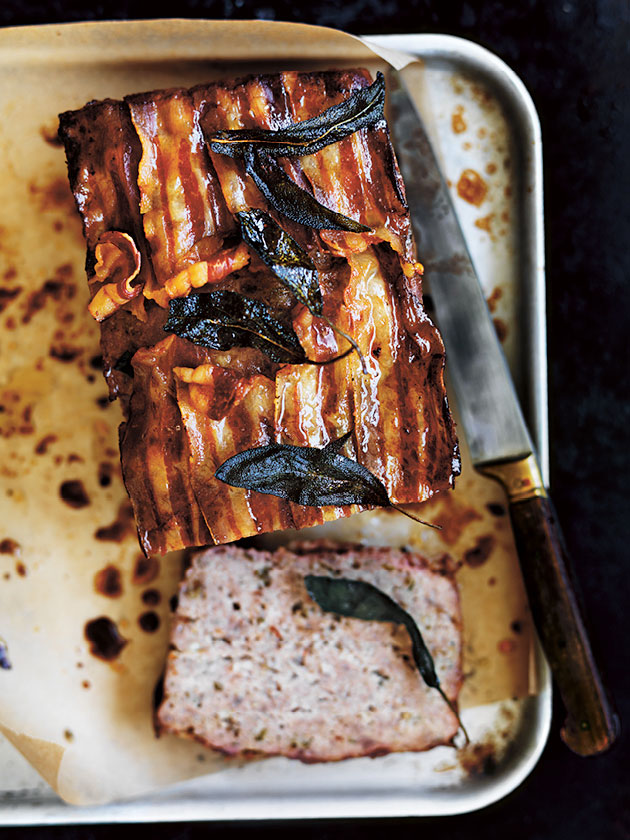 ESSENTIAL MINCE MIXTURE
1 cup (70g) fresh breadcrumbs

¼ cup (60ml) milk

2 teaspoons fennel seeds

2 teaspoons sea salt flakes

1 teaspoon dried chilli flakes

500g pork mince

500g veal mince

1 tablespoon finely grated lemon rind

1 egg yolk

1 cup (80g) finely grated parmesan

2 tablespoons thyme leaves, chopped

4 cloves garlic, crushed

1 tablespoon Dijon mustard

cracked black pepper
MEATLOAF
200g thinly sliced flat pancetta

2 tablespoons maple syrup

¼ cup sage leaves
Prepare the essential mince mixture.

Preheat oven to 180°C (350°F). Lightly grease a 10cm x 20cm (2-litre-capacity) loaf tin. Line the tin with the pancetta, overlapping the slices to cover the base and sides, allowing the excess to hang over the edges.

Press the mince mixture into the tin+ and fold in the overhanging pancetta.

Place in the oven and cook for 1 hour or until the meatloaf is cooked through and the pancetta is crisp.

Remove the meatloaf from the oven and increase the oven temperature to 200°C (400°F). Allow the meatloaf to cool in the tin for 5 minutes. Remove from the tin and place, top-side up, on a wire rack set over a baking tray.

Brush the top and sides of the meatloaf with the maple syrup, sprinkle with the sage leaves and roast for a further 5–8 minutes or until golden and caramelised and the sage is crisp.

Slice to serve. Serves 4–6
NOTE: + Use the back of a spoon to press the mince mixture firmly into the tin. This will help the meatloaf hold its shape and give it an even texture.
TIPS:
*You can buy combined pork and veal mince from your butcher.
*Store meatloaf in an airtight container in the refrigerator for up to 3 days.
*To freeze, simply slice the cooked meatloaf and place between sheets of non-stick baking paper in an airtight container in the freezer. You can freeze meatloaf for up to 3 months.
There are no comments for this entry yet.
RELATED VIDEO