pancetta-wrapped roast pork
with pear and fennel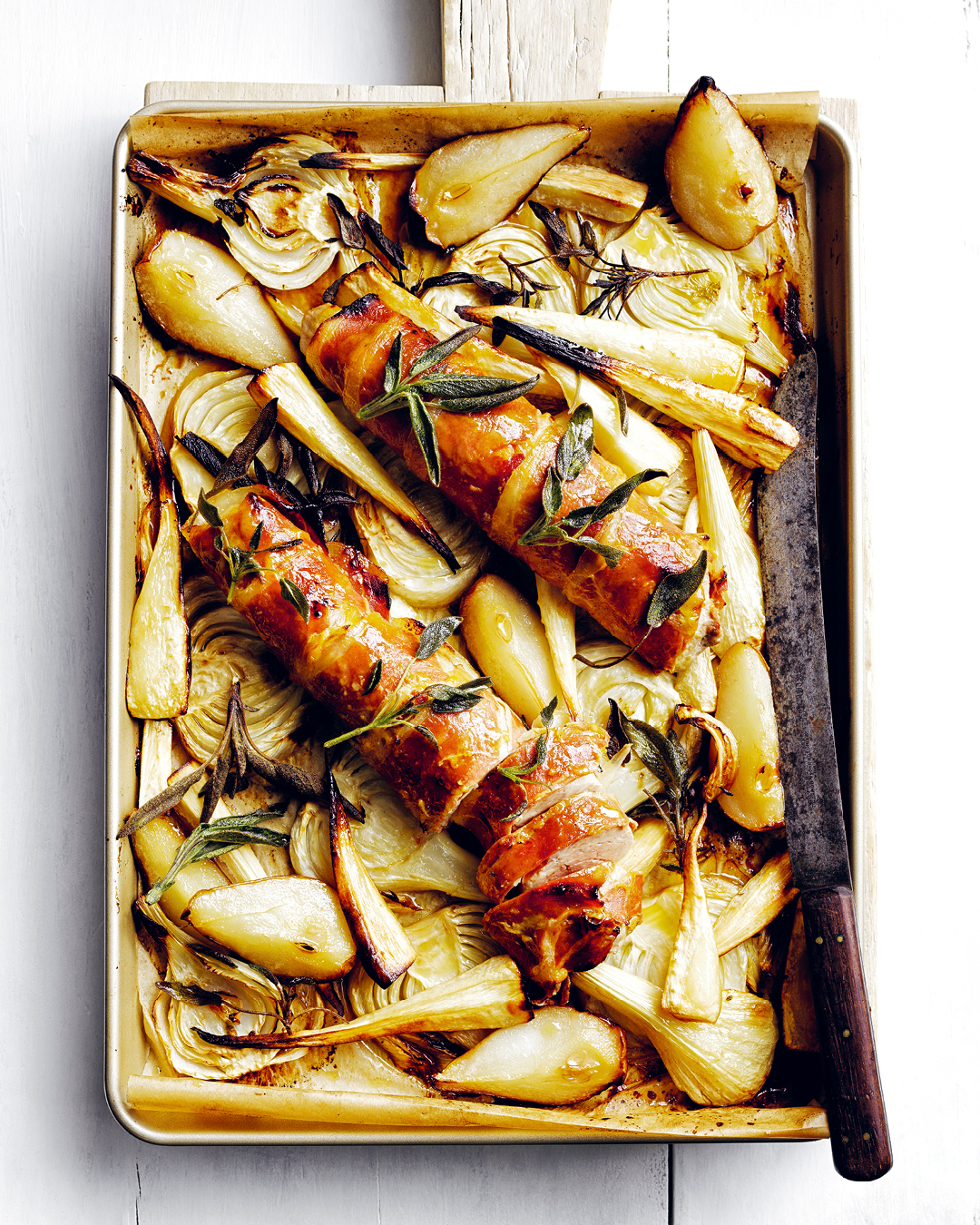 4 medium fennel bulbs, trimmed and sliced

4 small parsnips, peeled and quartered

3 firm pears, cored and quartered

12 small sage sprigs

2 tablespoons red wine vinegar

2 tablespoons extra virgin olive oil,

plus extra for drizzling

1 tablespoon honey

sea salt and cracked black pepper

2 x 300g pork fillets

20 slices flat pancetta

+
honey mustard marinade
¼ cup (70g) Dijon mustard
1 tablespoon honey, extra
sea salt and cracked black pepper
Preheat oven to 220°C (425°F).

Place the fennel, parsnips, pears, sage, vinegar, olive oil, honey, salt and pepper in a large bowl and gently mix to coat. Reserve 4 sage sprigs and set aside.

Place the fruit and vegetables into a large baking dish lined with non-stick baking paper. Roast for 25–30 minutes or until lightly golden.

Meanwhile, make the honey mustard marinade by mixing the mustard, extra honey, salt and pepper in a bowl to combine. Reserve

2 tablespoons of the marinade and set aside.

Brush the pork fillets with the remaining marinade. Wrap each pork fillet in the slices

of pancetta, tucking the ends underneath to secure.

Add the pork fillet to the baking dish and brush with the reserved marinade. Top with

the reserved sage and drizzle with oil. Roast for 18–22 minutes or until the pork is cooked to your liking.

Slice the pork and serve with the fennel, parsnips, sage and pears, with the pan juices spooned over the top.

Serves 4
+ Use flat pancetta instead of the round variety, so that you can wrap it around the pork with ease.
Photography: Chris Court

Mark Pumphrey
omg made this last night for friends and it was a big hit. cheers. x
Eva Browne-Paterson
This dish is an absolute stunner! Wow, the caramelisation of the fennel and the pears goes beautifully with the parsnip and pork… and those pan juices? Sublime! My dinner guests LOVED this and it was easy to make.