cauliflower and cheese pies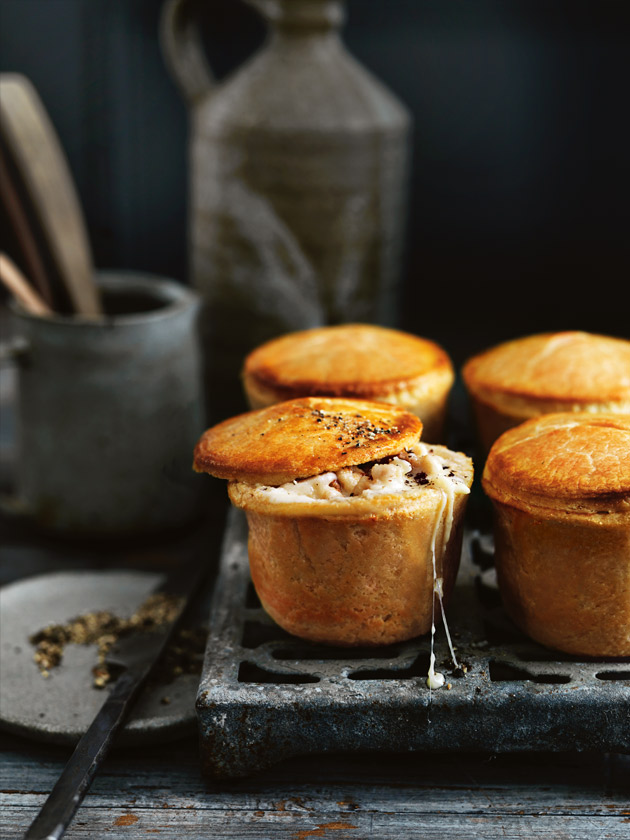 500g cauliflower florets

2 cloves garlic, thinly sliced

4 sprigs tarragon

1 tablespoon extra virgin olive oil

sea salt and cracked black pepper

20g unsalted butter

1 tablespoon plain (all-purpose) flour

⅔ cup (160ml) milk

¼ cup (60ml) single (pouring) cream

½ cup (50g) grated mozzarella

½ cup (40g) grated parmesan

¼ teaspoon grated nutmeg

1 egg, lightly beaten

hot-water pastry
150g unsalted butter, chopped

⅔ cup (160ml) water

2½ cups (375g) plain (all-purpose) flour

½ teaspoon table salt

Preheat oven to 200°C (400°F). Place the cauliflower, garlic, tarragon, oil, salt and pepper on a large oven tray and toss to combine. Cook for 15 minutes or until golden.

While the cauliflower is cooking, melt the butter in a small saucepan over medium heat. Add the flour and whisk for 1–2 minutes or until a smooth paste forms. Gradually add the milk and cream and cook, whisking, for 3–4 minutes or until thickened slightly. Remove from the heat, add the mozzarella, parmesan, nutmeg, salt and pepper, and whisk to combine. Set aside and keep warm.
To make the hot-water pastry, place the butter and water in a medium saucepan over high heat and bring to the boil. Remove from the heat, add the flour and salt and stir until a smooth dough forms.
Turn out the dough onto a lightly floured surface and knead until smooth and elastic. Divide into 4 pieces and roll out each portion between 2 sheets of non-stick baking paper to 3mm thick. Using a 20cm round plate as a guide, cut out 4 circles and press into 4 x 1-cup-capacity (250ml) ramekins. Re-roll the remaining pastry to 3mm thick and cut out 4 circles to fit the top of the pies.
Spoon half of the bechamel sauce into the base of each pie, tightly fill with cauliflower and top with the remaining bechamel sauce. Brush the edge of the pastry with the egg and press the tops onto each pie. Using a small, sharp knife, make a small slit in the top. Brush the top with egg.
Place on an oven tray and cook for 25–30 minutes or until golden. Sprinkle with pepper to serve. Makes 4.

donna hay team
Hi Bea, Yes, to prevent the pastry from sticking to the tin, you can use butter to prep the tin. Hope this helps! DH Team
Bea Long
Do you prep your tins with anything? I have the metal break away tins & usually will remove pie to brown outside. Do I need to butter tin?
donna hay team
Hi Vanessa! We cooked our pies in metal ramekins. As you will be baking yours in ceramic, unfortunately they will not colour on the sides as much. If you are have trouble slipping them out of the ramekins, serving them in the ramekins will work just as well!
Vanessa Tait
I would love to make these for a lunch with a vege friend coming who I always miss giving nice food to. But I have porceline ramekins, will the pastry brown up like yours have? do they just slip out or do I need to grease the ramekins first? they look great
Tags:
baking
,
cauliflower
,
cheese
,
cheesecake
,
dinner
,
easy weeknights
,
light meal
,
mozzarella
,
nutmeg
,
parmesan
,
pastry
,
pie
,
tarragon
,