shank pies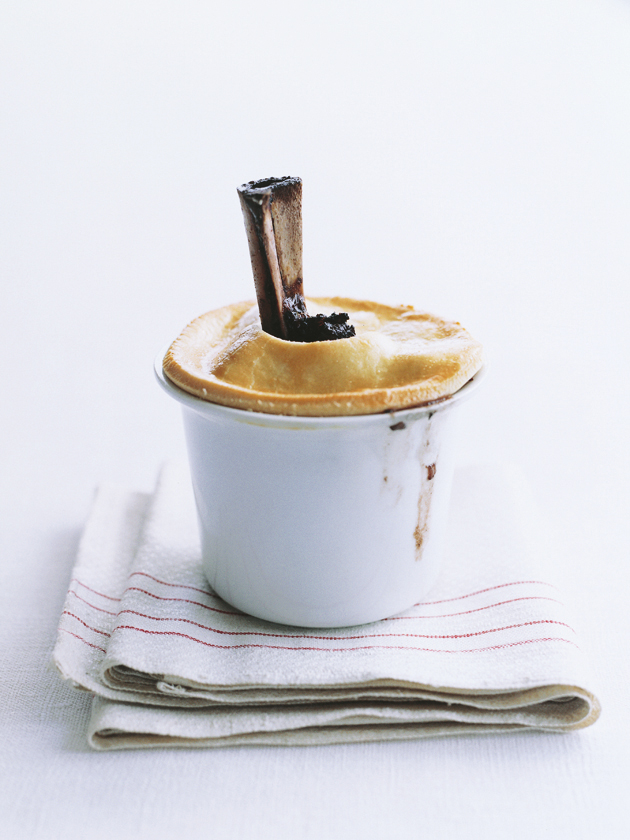 4 lamb shanks, trimmed
flour, for coating
1 tablespoon vegetable oil
2 onions, chopped
4 cloves garlic, peeled and halved
2½ cups (625ml) dry red wine
2 cups (500ml) beef stock
2 carrots, peeled and chopped
2 parsnips, peeled and chopped
1 tablespoon chopped rosemary
1 tablespoon cornflour (cornstarch)
2 tablespoons water
1 quantity (350g) shortcrust pastry (see recipe)

Coat the shanks with flour and shake off the excess. Heat the oil in a large saucepan over high heat. Cook the shanks for 3 minutes each side or until well browned. Remove and set aside.

Add the onion and garlic to the pan and cook for 3 minutes or until soft. Return the shanks to the pan with the wine and stock. Cover and simmer for 1 hour.

Add the carrot, parsnip and rosemary. Simmer, covered, for 20 minutes or until the shanks are tender.

Preheat the oven to 180°C (350°F). Divide the shanks and vegetables (no sauce) between 4 x 1½ cup capacity dishes. Mix the cornflour and water to a paste and stir into the sauce. Cook the sauce, stirring, until it boils and thickens. Pour over the shanks.

Roll out the pastry on a lightly floured surface to 3 mm (1/8 in) thick. Cut four pastry rounds and fit over the dishes, cutting a hole for the shank bone. Bake for 20 minutes or until golden. Serves 4.

There are no comments for this entry yet.