crumbed pork with teriyaki dressing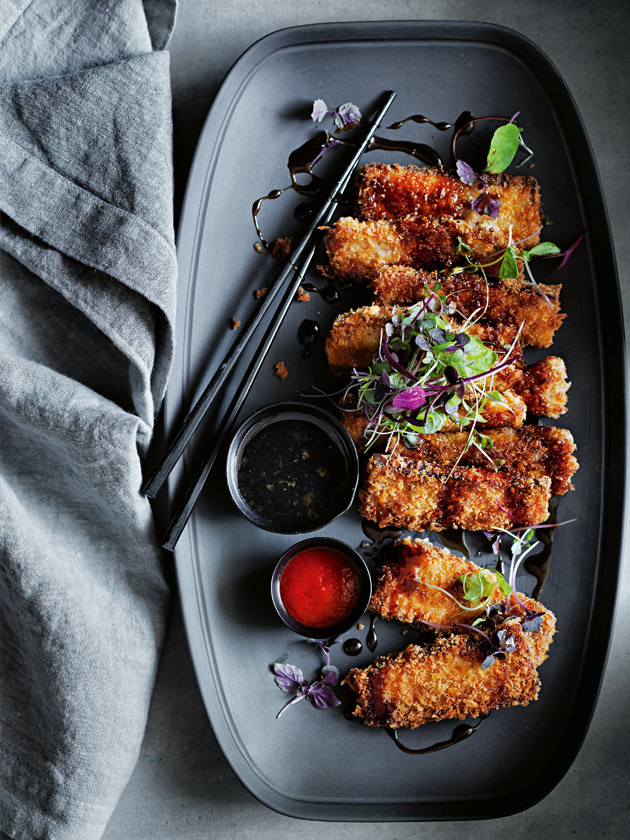 1 x 2kg piece boneless pork belly, rind removed

½ cup (125ml) mirin (Japanese rice wine)

½ cup (125ml) rice wine vinegar

¼ cup (60ml) soy sauce

3 eggs

½ cup (125ml) milk

1 cup (150g) plain (all-purpose) flour

3 cups (210g) Japanese panko breadcrumbs+

⅓ cup (80ml) vegetable oil, for shallow-frying

hot chilli sauce and mixed micro (baby) herbs (optional), to serve

Preheat oven to 200ºC (400ºF). Place the pork in a small roasting dish with the mirin, rice wine vinegar and soy sauce. Cover with aluminium foil and roast for 1 hour. Remove the pork and set aside.
Strain the cooking liquid into a small frying pan over high heat. Cook for 10 minutes or until thick and glossy. Set aside.

Slice the pork into 8cm x 1cm pieces. Place the eggs and milk in a small bowl and whisk to combine. Place the flour and breadcrumbs in separate bowls. Dip the pork slices into the flour, followed by the egg mixture and press into the breadcrumbs.
Heat the oil in a large non-stick frying pan over high heat. Cook the pork belly, in batches, for 1–2 minutes each side or until golden. Drain on absorbent paper. Serve the pork with the reserved teriyaki dressing, chilli sauce and micro herbs. Serves 6.
+ Japanese panko breadcrumbs are made from crustless white bread and make for a light-golden crumb when fried. Find them in Asian grocery stores and the Asian section of the supermarket. Use fresh, white breadcrumbs if unavailable.
There are no comments for this entry yet.