thyme-crusted pork schnitzel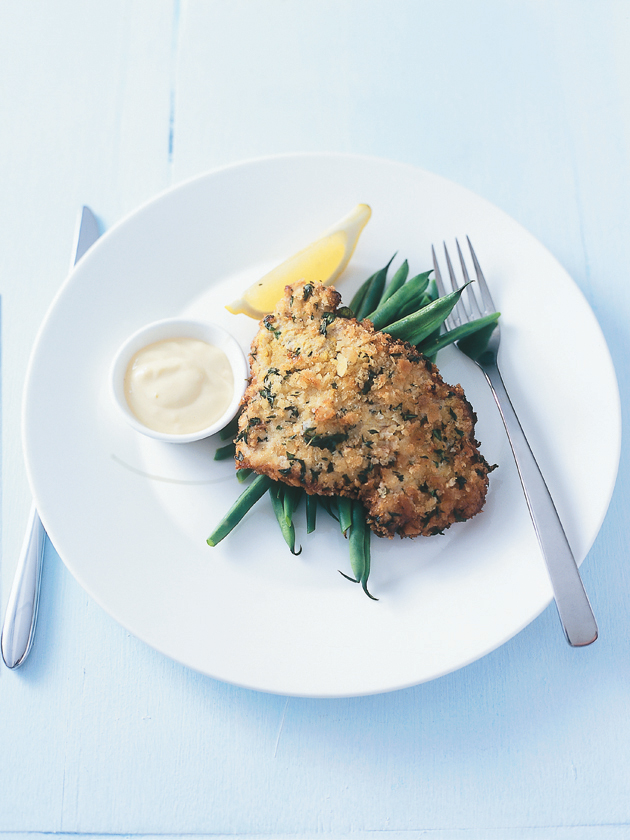 1 tablespoon thyme leaves
2 tablespoons chopped flat-leaf parsley leaves
1¼ cups (85g) fresh breadcrumbs*
sea salt and cracked black pepper
4 x 180g pork steaks
1 tablespoon hot English mustard
vegetable oil, for shallow-frying
300g green beans, blanched
lemon wedges, to serve
horseradish mayonnaise
½ cup (150g) whole-egg mayonnaise
¼ cup (70g) store-bought horseradish cream

To make the horseradish mayonnaise, place the mayonnaise and horseradish cream in a bowl and stir to combine. Set aside.
Place the thyme, parsley, breadcrumbs, salt and pepper in a bowl and stir to combine. Brush the pork with mustard and press into the thyme mixture. Heat 1cm oil in a large non-stick frying pan over medium heat. Add the pork and cook, in batches, for 2 minutes each side or until golden and cooked through.
Serve with the beans, lemon wedges and horseradish mayonnaise. Serves 4.

* To make fresh breadcrumbs, use any fresh or stale bread you have on hand. Place torn pieces in a food processor and pulse until crumbs form.
There are no comments for this entry yet.