portuguese-style barbecued seafood platter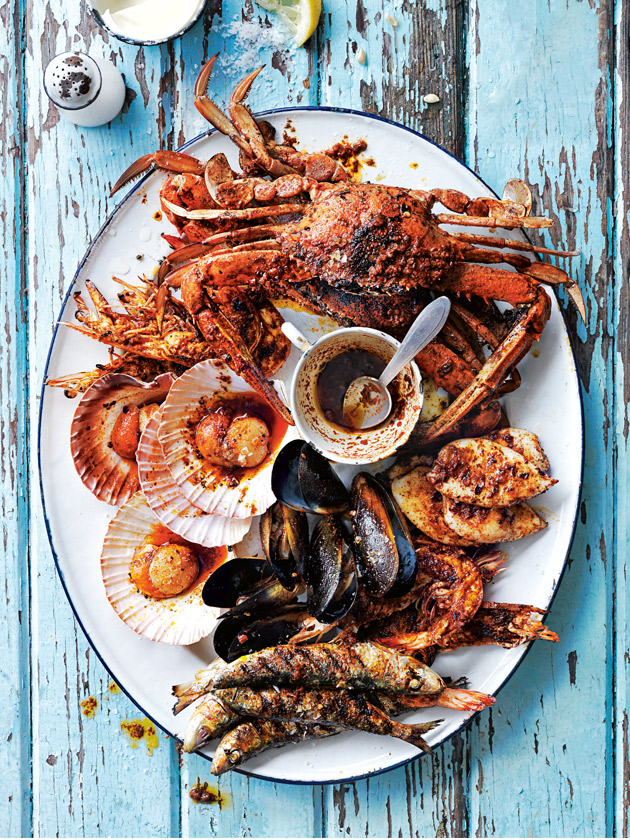 1½ tablespoons smoked paprika

3 teaspoons sweet paprika

1½ teaspoons dried chilli flakes

3 cloves garlic, crushed

1 tablespoon finely grated lemon rind

¾ cup (180ml) extra virgin olive oil

¼ cup (60ml) red wine vinegar

4 scallops on the half shell

4 sardines, filleted

6 small squid tubes, cleaned

6 green (uncooked) king prawns (shrimp), halved

2 x 375g raw blue swimmer crabs

500g mussels, cleaned

sea salt and cracked black pepper

lemon wedges and aioli, to serve

Preheat a large char-grill pan or barbecue to high heat. Place the smoked and sweet paprika, the chilli, garlic, lemon rind, oil and vinegar in a small bowl and mix to combine. Reserve ¼ cup (60ml) of the mixture.

Place the scallops, sardines, squid, prawn, mussels and crab on a large oven tray, drizzle with the paprika mixture and toss to coat. Cook the crab, covered+, for 5 minutes each side. Set aside and keep warm.

Add the scallops, shell-side down, and cook, covered, for 3 minutes. Set aside and keep warm. Add the prawns, sardines and squid and cook for 1–2 minutes each side or until charred and just cooked. Set aside and keep warm.

Add the mussels and cook, covered, for 1–2 minutes or until opened. Sprinkle with salt and pepper and serve with lemon wedges, aioli and reserved dressing. Serves 2.

+ If using a barbecue, close the lid to cover. If using a char-grill pan, cover with a large metal bowl.
donna hay team
Hi Vaibhab, as mentioned in the recipe - this dish serves 2. The dh team
Vaibhav Gulati
Please mention the number of servings for this particular dish prepared here also?