pulled pork quinoa nachos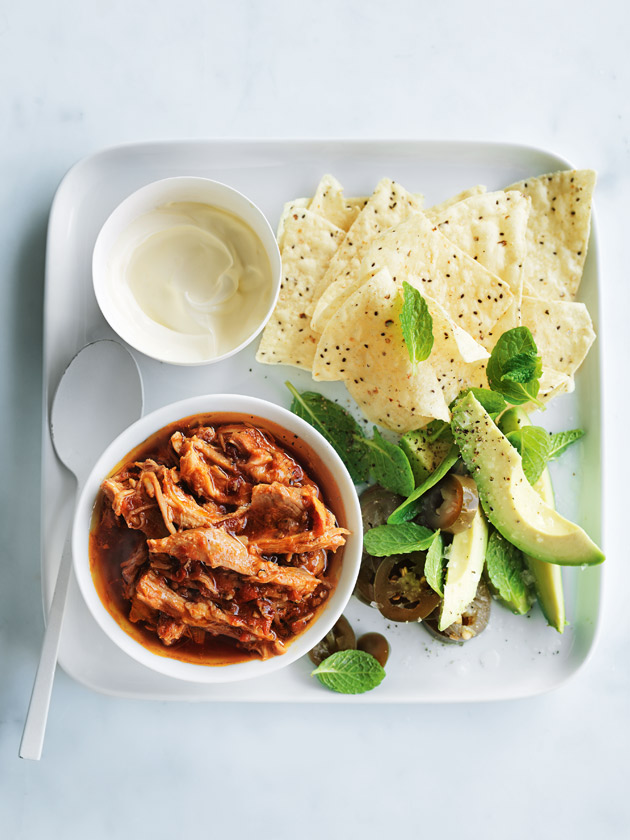 1kg boneless pork neck, trimmed and cut into 2 pieces

¼ cup (80g) chipotle chillies in adobo sauce+

400g can chopped tomatoes

3 cups (750ml) chicken stock

sea salt and cracked black pepper

6 cups (240g) store-bought quinoa chips++

¼ cup (50g) sliced pickled jalapeños

sour cream, avocado and mint leaves, to serve

Preheat oven to 220°C. Place the pork, chillies and sauce, tomato, stock, salt and pepper in a large ovenproof heavy-based saucepan. Cover with a tight fitting lid and cook for 2 hours.

Remove lid and cook for a further 20 minutes or until the sauce has reduced slightly and the pork is tender. Allow to cool slightly before shredding the meat with two forks.

Divide the chips between plates and serve with the pork, jalapeños, sour cream, avocado and mint. Sprinkle with pepper to serve. Serves 4.

+ Quinoa chips are available from selected supermarkets and health food stores. Substitute with regular corn chips.
++ Chipotle chillies in adobo sauce are available from select delicatessens and greengrocers.
There are no comments for this entry yet.