roast turkey with pear and potato gratin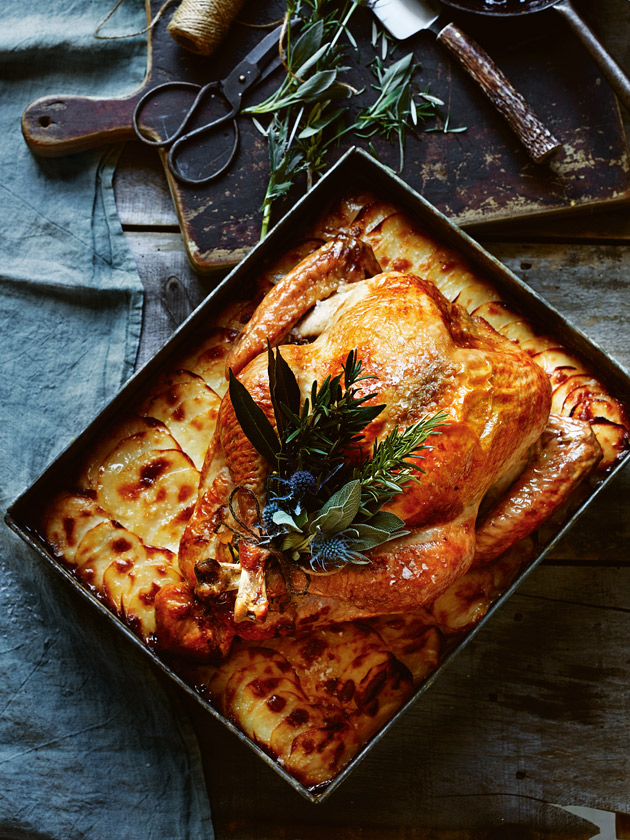 1 cup (175g) light brown sugar

1 onion, quartered

1 head garlic, halved horizontally

2 cups (600g) rock salt

1 cup (250ml) apple cider vinegar

25g ginger, peeled and thinly sliced

5 litres water

1.25 litres dry ginger ale

1 x 5kg turkey

80g unsalted butter, softened

pear stuffing
2 tablespoons extra virgin olive oil

1 onion, finely chopped

2 cloves garlic, crushed

2 William (firm green) pears, peeled, cored and chopped

⅓ cup rosemary leaves, chopped

sea salt and cracked black pepper

¼ cup (95g) stem ginger+, chopped

1 tablespoon Dijon mustard

½ cup (80g) toasted pine nuts

4 cups (280g) sourdough breadcrumbs

1 egg
pear and potato gratin
2.5kg sebago (starchy) potatoes, peeled and thinly sliced

4 William (firm green) pears, peeled, cored and thinly sliced

½ cup (125ml) hot single (pouring) cream

Place the sugar, onion, garlic, salt, vinegar, ginger and 1 litre of the water in a large saucepan over high heat. Bring to the boil, stirring to dissolve the salt. Allow to cool slightly. Pour the brining liquid into a large (10-litre-capacity) non-reactive container. Add the dry ginger ale and the remaining water and stir to combine. Using your hands, carefully loosen the skin from the flesh of the turkey breasts. Lower the turkey, breast-side down, into the brine. Cover and refrigerate for 6 hours (but no longer).

To make the pear stuffing, place the oil in a large non-stick frying pan over high heat. Add the onion and garlic and cook, stirring, for 4 minutes. Add the pear, rosemary, salt and pepper and cook for 2 minutes. Transfer to a large bowl and add the ginger, mustard, pine nuts, breadcrumbs and egg. Mix well to combine.

Remove the turkey from the container, discarding the brine, and pat dry with absorbent kitchen paper. Spoon the stuffing into the cavity. Using your hands, spread the butter under the skin. Tie the legs with kitchen string, tuck the wings underneath and set aside.

Preheat oven to 200°C (400°F). To make the pear and potato gratin, lightly grease a 29cm x 40cm deep-sided roasting pan. Layer the potato and pear in the base of the pan and sprinkle with salt. Pour the hot cream over the gratin.

Top the gratin with the turkey. Cover with aluminium foil and roast for 1 hour. Remove the foil, reduce the oven temperature to 180°C (350°F) and roast for a further 1 hour or until the turkey is golden and the juices run clear when tested with a skewer. Cover with aluminium foil and allow to rest for 20 minutes, before serving. Serves 6–8

TIPS
Stem ginger is ginger that's been preserved in sugar syrup. It's available from specialty grocers and Asian supermarkets. If unavailable, you can use crystallised ginger instead.
Non-reactive materials include glass, plastic and stainless steel.
Photography: Con Poulos

Trudy-Ann King
The turkey was superb. Super juicy and supremely golden. The gratin was OK.