harissa-roasted chicken
with kipfler chips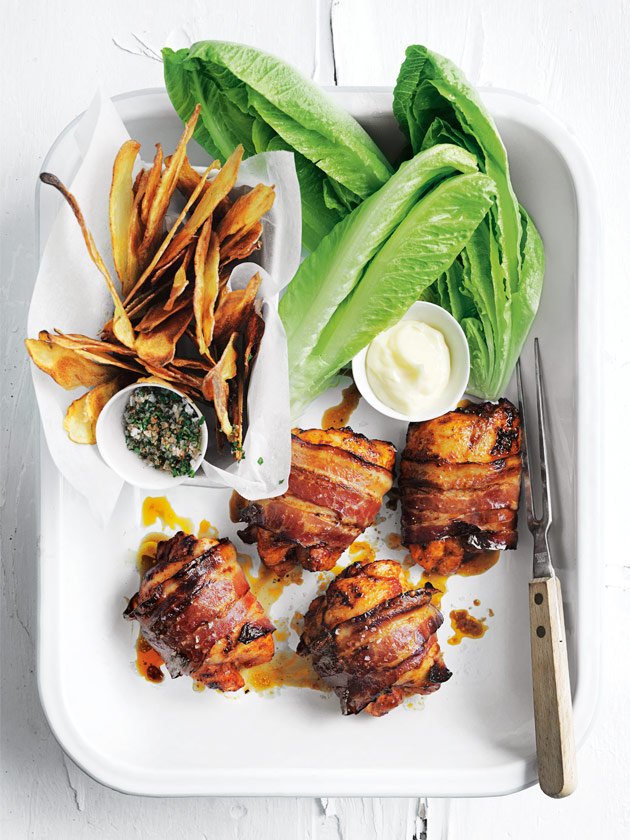 8 x 125g chicken thighs, trimmed

1½ teaspoons sweet smoked paprika

1 tablespoon harissa paste

¼ cup (60ml) extra virgin olive oil

2 tablespoons orange juice

16 slices streaky bacon

500g kipfler (waxy) potatoes, thinly sliced on a mandolin

2 tablespoons sea salt flakes

¼ cup mint leaves, finely chopped

cracked black pepper

baby cos lettuce and mayonnaise, to serve

Preheat oven to 220°C (425°F). Place the chicken, 1 teaspoon of the paprika, the harissa, 1 tablespoon of the oil and the orange juice in a large bowl and mix to combine. Set aside for 5 minutes.

Wrap 2 pieces of the bacon around each thigh. Place on a large oven tray lined with non-stick baking paper. Cook for 20 minutes.

While the chicken is cooking, place the potato on a well-greased oven tray, drizzle with the remaining oil and cook for 10–12 minutes, turning halfway, or until golden brown.

Place the salt, mint, remaining paprika and pepper in a small bowl and mix to combine. Sprinkle the potato and chicken with a little of the paprika salt.

Serve with lettuce, mayonnaise and paprika salt. Serves 4.

Prue Flower
Wonderful standby for a quick dinner