roasted salmon
with broccoli and israeli couscous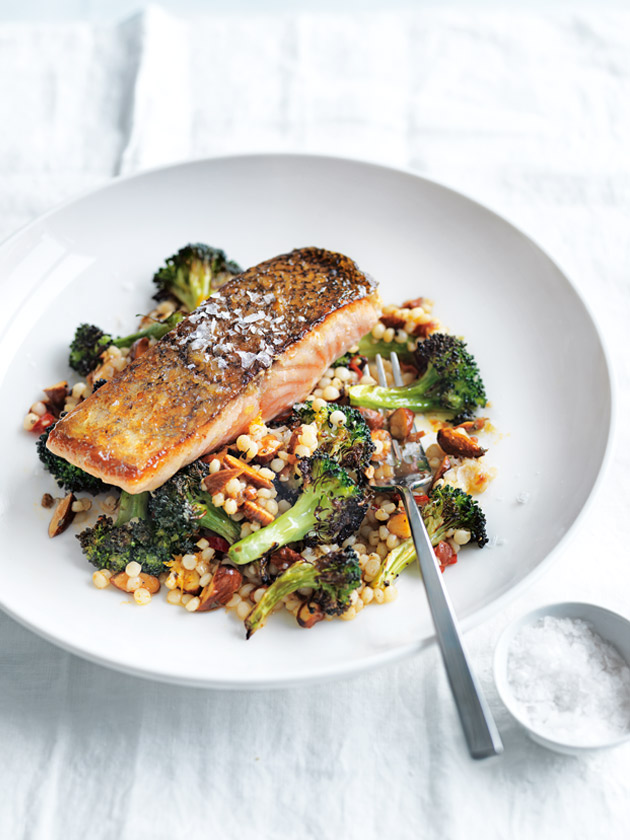 500g broccoli, cut into florets

¼ cup (60ml) extra virgin olive oil

1 long red chilli, sliced

⅓ cup (55g) almonds, chopped

sea salt and cracked black pepper

4 x 180g salmon fillets, skin on

¾ cup (150g) Israeli (pearl) couscous, cooked

¼ cup (65g) store-bought sundried tomato pesto

1 tablespoon finely grated lemon rind

1 tablespoon lemon juice

Preheat oven to 220°C (425°F). Place the broccoli, oil, chilli, almond, salt and pepper in a large bowl and toss to combine.

Place the broccoli mixture on a large oven tray lined with non-stick baking paper and cook for 6–8 minutes or until tender and charred.

Sprinkle the salmon with salt and pepper and place on top of the broccoli. Cook for a further 8–10 minutes or until the salmon is just cooked through.

Place the couscous, pesto, lemon rind, lemon juice and broccoli mixture in a large bowl and mix to combine. Divide the mixture between serving plates and top with the salmon.
Sprinkle with sea salt to serve. Serves 4.

There are no comments for this entry yet.