roasted tomato,
ricotta and pancetta pasta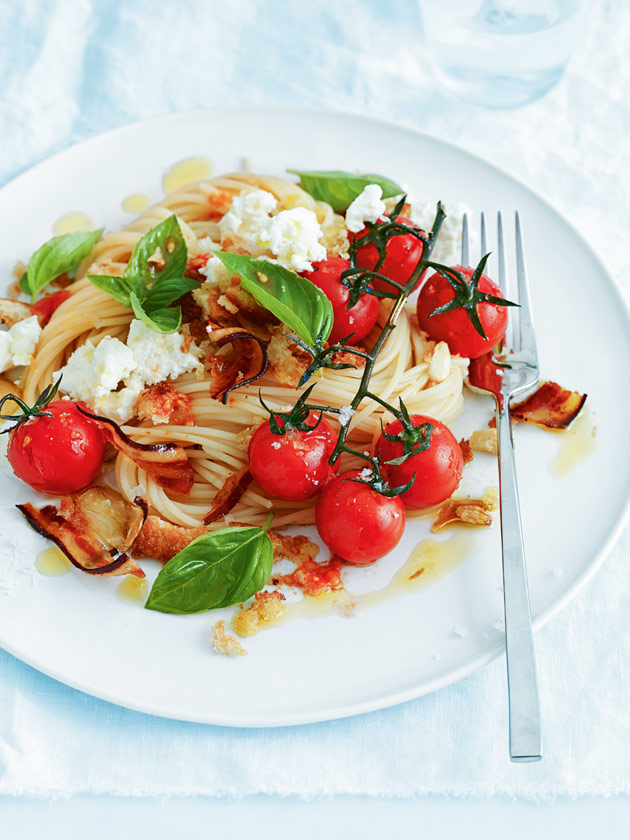 400g truss cherry tomatoes
12 slices flat pancetta
2½ tablespoons extra virgin olive oil
2 cups (100g) coarse fresh sourdough breadcrumbs
2 cloves garlic, sliced
sea salt and cracked black pepper
500g spaghetti
2 tablespoons white balsamic vinegar
1 cup (200g) ricotta, crumbled, and 1 cup basil leaves, to serve
Preheat oven to 220°C (425°F). Place the tomatoes and pancetta on a large baking tray and drizzle with ½ tablespoon of the oil. Place the breadcrumbs, garlic, 1 tablespoon of the oil, salt and pepper on a separate baking tray and toss to combine. Roast both trays for 8–10 minutes or until golden.
Cook the pasta in a large saucepan of salted boiling water for 8–10 minutes or until al dente. Drain, return to the saucepan and toss through the vinegar and remaining oil. Divide between plates and top with the tomatoes, pancetta, breadcrumbs, ricotta and basil leaves to serve. Serves 4
Photography: Nassima rothacker
Joyce Spry
This is a really great recipe - simple fresh and tasty.