roasted tomato zucchini pasta
with poached egg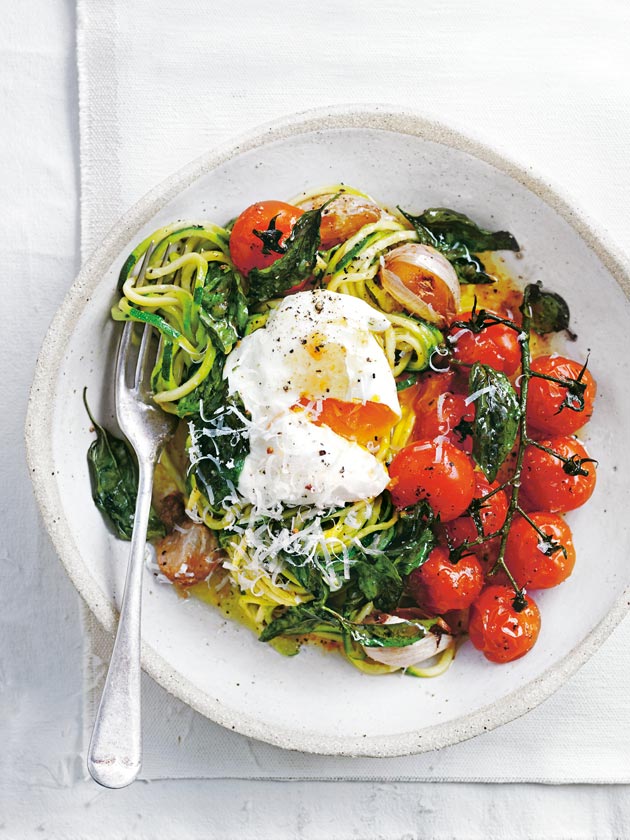 12 cloves garlic

¼ cup (60ml) extra virgin olive oil

¼ cup (60ml) white vinegar

4 eggs

400g truss cherry tomatoes

2 cups basil leaves

sea salt and cracked black pepper

6 medium (1kg) zucchini (courgettes),
thinly sliced lengthways using a julienne peeler

grated parmesan, to serve

Preheat oven to 180°C (350°F). Place the garlic and oil on a large oven tray lined with non-stick baking paper and cook for 10 minutes.

While the garlic is cooking, heat a large saucepan of water over low heat until just simmering. Add the vinegar and use a wooden spoon to create a gentle whirlpool. Crack each egg, one at a time, into a small bowl and gently slip into the water. Poach the eggs, one at a time, for 3–4 minutes or until the eggwhite is cooked and the yolk is still runny. Remove with a slotted spoon and set aside.

Place the tomatoes and basil on the tray
with the garlic, sprinkle with salt and pepper and return to the oven for a further 10 minutes or until the tomatoes and garlic are soft.

Place the zucchini on the tray and return to the oven for a further 5 minutes to warm through. Remove from oven and toss to combine.

Divide between serving bowls and top each with a poached egg. Sprinkle with parmesan to serve. Serves 4.

There are no comments for this entry yet.