seeded schnitzel with fennel and apple slaw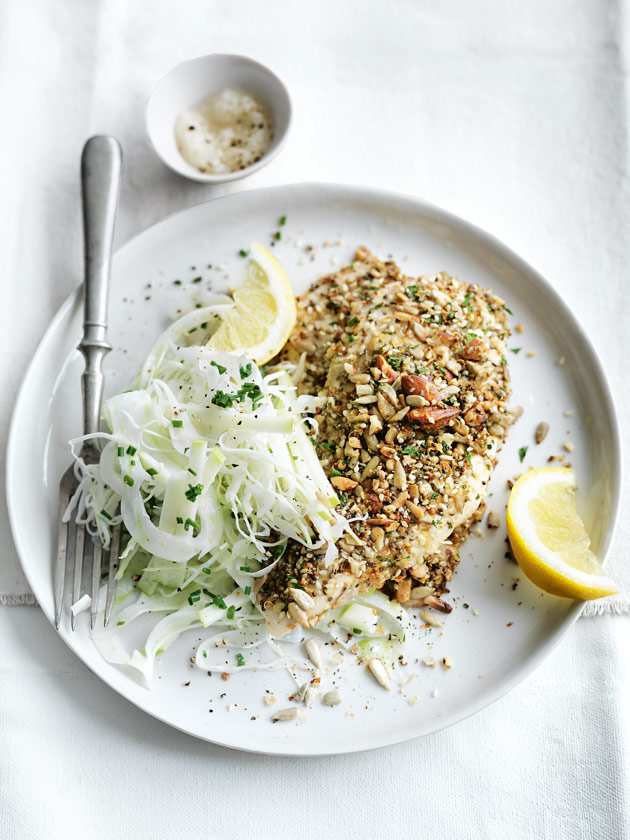 4 x 200g chicken breast fillets, halved lengthways

2 tablespoons extra virgin olive oil

lemon wedges, to serve

spiced seeded crumb
¼ cup (40g) almonds

2 tablespoons sesame seeds

1 teaspoon chia seeds (optional)

¼ cup (35g) sunflower seeds

2 teaspoons coriander seeds, crushed

1 teaspoon ground cumin

¼ cup (20g) finely grated parmesan, plus extra to serve

1 teaspoon sea salt flakes

1 tablespoon flat-leaf parsley leaves, chopped

fennel and apple slaw
2 baby fennel bulbs, thinly sliced

2 cups (180g) white cabbage, shaved

2 cups (180g) brussels sprouts, shaved

2 green (Granny Smith) apples, cut into matchsticks

¼ cup chopped chives

1 cup (250ml) buttermilk

1 tablespoon horseradish relish

2 tablespoons white balsamic vinegar

sea salt and cracked black pepper

Preheat oven to 200°C (400°F). To make the spiced seeded crumb, place the almonds, sesame seeds, chia, sunflower seeds, coriander, cumin, parmesan and salt in a food processor. Pulse until the mixture resembles coarse crumbs. Add the parsley and stir to combine.
Divide the chicken between two baking trays lined with non-stick baking paper and sprinkle with the crumb mixture. Drizzle with the oil and roast for 10–15 minutes or until golden and cooked through.
To make the slaw, place the fennel, cabbage, brussels sprouts, apple, chives, buttermilk, horseradish, vinegar, salt and pepper in a large serving bowl and toss to combine. Serve the schnitzels with the slaw, extra parmesan and the lemon. Serves 4.

There are no comments for this entry yet.