slow-cooked butternut pumpkin
and chickpea dhal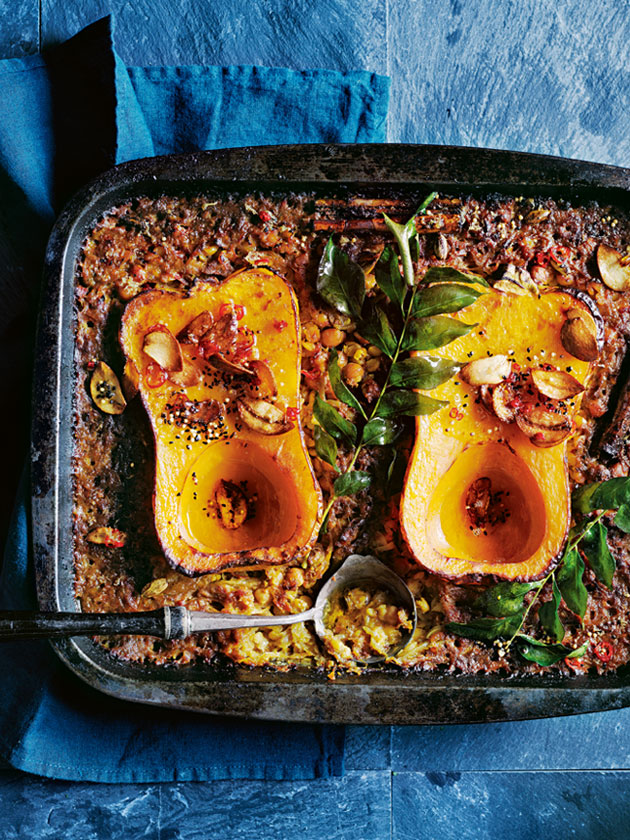 ¼ cup (60ml) ghee (clarified butter)

2 onions, thinly sliced

4 cloves garlic, crushed

1 tablespoon grated fresh ginger

2 teaspoons grated fresh turmeric

1 teaspoon sea salt flakes

2 whole dried chillies

1½ teaspoons coriander seeds

1 teaspoon cumin seeds

½ teaspoon fennel seeds

1½ teaspoons yellow mustard seeds

1 teaspoon garam masala

¼ teaspoon saffron

1.5 litres water

2 tomatoes, grated

2 cups (400g) yellow split peas

400g can chickpeas (garbanzos), rinsed and drained

2 sticks cinnamon

8 cardamom pods

1 small sprig bay leaves

1.2kg butternut pumpkin, halved and deseeded

1 teaspoon grated fresh ginger, extra

2 cloves garlic, extra, thinly sliced

1 long red chilli, thinly sliced

½ teaspoon nigella seeds

3 sprigs curry leaves

½ teaspoon brown mustard seeds

Preheat oven to 180°C (350°F). Heat 1 tablespoon of the ghee in a large non-stick frying pan over high heat. Add the onion, crushed garlic, ginger, turmeric and salt, and cook for 8–10 minutes or until soft.

Place the dried chillies, coriander, cumin and fennel seeds, and 1 teaspoon yellow mustard seeds in a small frying pan over high heat and cook for 1 minute. Place in a mortar and pound with a pestle until finely ground. Add the spice mixture, garam masala and saffron to the onion and cook, stirring, for 2 minutes.

Place the mixture in a deep-sided roasting dish. Add the water, tomato, split peas, chickpeas, cinnamon, cardamom and bay leaves and mix to combine. Add the pumpkin, cut-side down, cover tightly with aluminium foil and cook for 45 minutes. Carefully turn the pumpkin, cover and cook for 1 hour. Increase temperature to 220°C (425°F). Remove the foil and cook for 45 minutes or until the pumpkin is golden and the split peas are tender.

Place the extra ginger in a small heatproof bowl and set aside. Heat the remaining ghee in a medium frying pan over high heat. Add the sliced garlic and red chilli, and cook for 30 seconds. Add the nigella seeds, curry leaves, brown mustard seeds and remaining yellow mustard seeds, and cook for 30 seconds. Pour the ghee mixture over the ginger. Spoon the ginger mixture over the pumpkin to serve. Serves 8.

There are no comments for this entry yet.