super green chia falafels
with sauerkraut slaw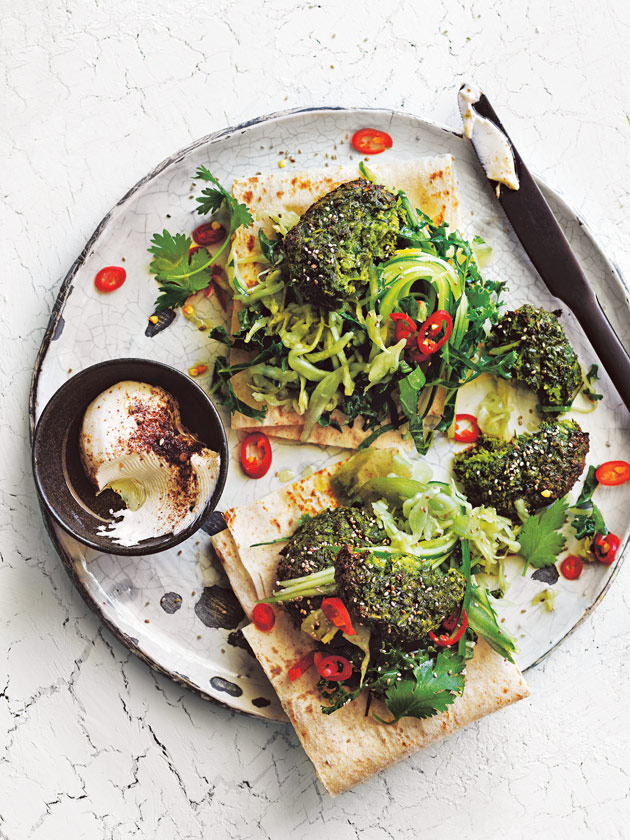 2 green onions (scallions), roughly chopped

3 cups (75g) chopped kale leaves

1 cup mint leaves

1 cup coriander (cilantro) leaves, root, stem and leaves, plus extra leaves, to serve

¼ cup (50g) white chia seeds, plus extra for sprinkling

1 egg

¾ cup (75g) quinoa flakes

2 cups (280) frozen baby peas, thawed

4 wholegrain mountain bread+

labne (yoghurt cheese), to serve

1 cucumber, shredded

1 long red chilli, finely sliced
sauerkraut slaw
2 teaspoons lemon juice

2 teaspoons extra virgin olive oil

1 cup (180g) sauerkraut

3 cups (75g) shredded kale leaves

Preheat oven to 220°C (425°F). Place the onion, kale, mint, coriander, chia, egg, quinoa and peas in a food processor and pulse until the mixture comes together.

Roll 2 tablespoons of the mixture into patties and place on a large baking tray lined with non-stick baking paper. Sprinkle with the extra chia and cook for 22–25 minutes or until golden.

While the falafels are cooking, make the sauerkraut slaw. Place the lemon juice and oil in a large bowl and stir to combine. Add the

sauerkraut and kale, and toss to combine. Top each mountain bread with labne, slaw, falafels, cucumber, chilli and extra coriander to serve. Serves 4.

+ Mountain bread is a thin, lavosh style bread. It is available from selected supermarkets, or you can use any thin rye flatbread.

There are no comments for this entry yet.