sushi bowls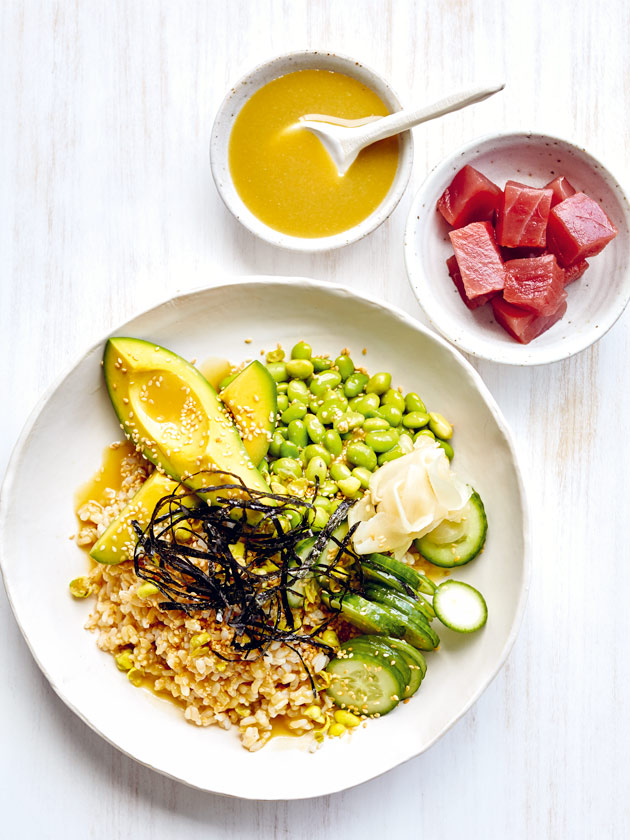 1⅓ cups (185g) frozen shelled edamame beans
4 cups (800g) cooked brown rice
2 small avocados, quartered lengthways
2 cucumbers, thinly sliced
¼ cup (70g) store-bought pickled ginger
2 tablespoons white or black sesame seeds, toasted
2 sheets toasted nori, finely shredded
⅓ cup (30g) wasabi peas, chopped (optional)
wasabi dressing
¼ cup (60ml) mirin (Japanese rice wine)
2 tablespoons white miso paste (shiro)
2 teaspoons wasabi paste (see tips and tricks)
2 teaspoons raw caster (superfine) sugar
To make the wasabi dressing, place the mirin, miso paste, wasabi paste and sugar in a small bowl and mix to combine.
Place the edamame in a medium heatproof bowl and cover with boiling water. Allow to stand for 4 minutes or until tender. Drain and rinse under cold running water.
Divide the rice, avocado, cucumber and edamame between serving bowls. Top with the ginger and sesame seeds. Spoon the wasabi dressing over and sprinkle with the nori and wasabi peas to serve. Serves 4
TIPS AND TRICKS
+ Just like when I'm in my favourite sushi bar, I love to choose the combinations I'm craving (and so do my kids!). You can customise your sushi bowl by adding 120g chopped sashimi-grade salmon or tuna per serving… or maybe you'd prefer 5 cooked and peeled prawns. Smoked salmon works well too, you'd need 3 slices per bowl. Other tasty options include 80g thinly sliced rare-roasted beef fillet or 80g shredded cooked chicken per serving.
+ If you like a little more heat, you could add 1–2 teaspoons of extra wasabi paste to the dressing.
Photography: Con Poulos
There are no comments for this entry yet.