three-cheese soufflé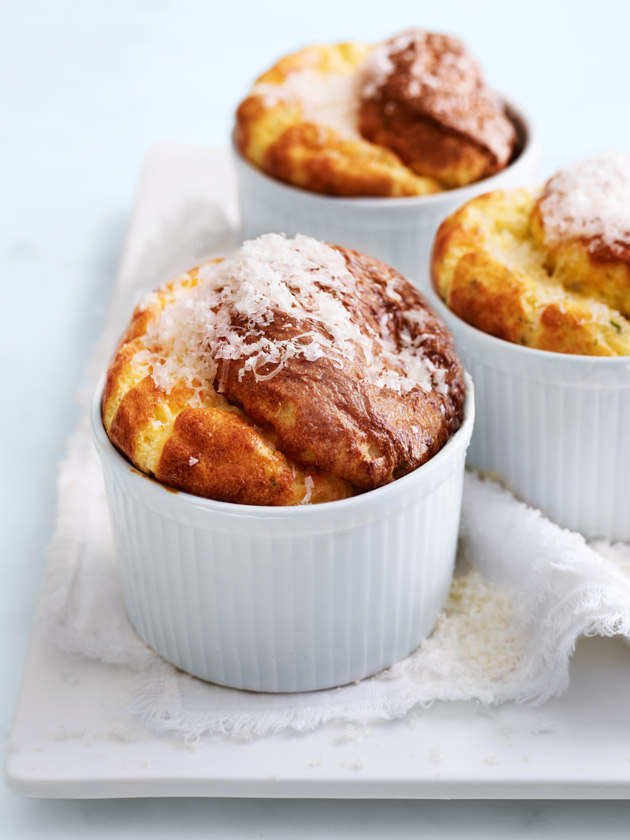 melted butter, for brushing

1⅓ cups (50g) finely grated parmesan, plus extra to serve

30g unsalted butter

2 cloves garlic, crushed

¼ cup (35g) plain (all-purpose) flour

⅔ cup (160ml) milk

4 eggs, separated, plus 1 eggwhite, extra

1 cup (70g) finely grated gruyere

1 cup (80g) finely grated cheddar

⅓ cup flat-leaf parsley leaves, finely chopped

sea salt and cracked black pepper

Preheat the oven to 200°C. Brush 4 x 1½-cup-capacity (375ml) ovenproof ramekins with the melted butter and sprinkle with ⅓ cup (15g) of the parmesan. Refrigerate until required. Melt the butter in a small saucepan over low heat. Add the garlic and cook for 30 seconds. Add the flour and cook, stirring, for 1 minute until well combined. Gradually add the milk and bring to the boil, stirring constantly, for 2 minutes or until the mixture is thickened and smooth.

Remove from heat. Add the egg yolks, gruyere, cheddar, parsley, salt, pepper and remaining parmesan and mix well to combine. Place the cheese mixture in a large bowl and set aside to cool slightly.
Place the eggwhites and extra eggwhite in a large bowl and using electric beaters, beat until stiff peaks form. Add ⅓ of the eggwhites to the cheese mixture and gently fold through to combine. Repeat, in batches, with the remaining eggwhites.

Spoon the cheese mixture into the prepared ramekins and place on an oven tray. Cook for 20–22 minutes or until puffed and golden brown. Sprinkle with the extra parmesan and serve immediately. Serves 4.
Tips + Tricks
+ Brushing the ramekins with butter and coating them with parmesan allows the soufflé to rise.
+ Make sure not to overmix the eggwhites when folding them into the cheese mixture or you'll beat out all of the air.
+ Keep the oven door closed while cooking – opening the door will let cold air in, which might make the soufflés sink.
There are no comments for this entry yet.