asian-style chilli chicken nachos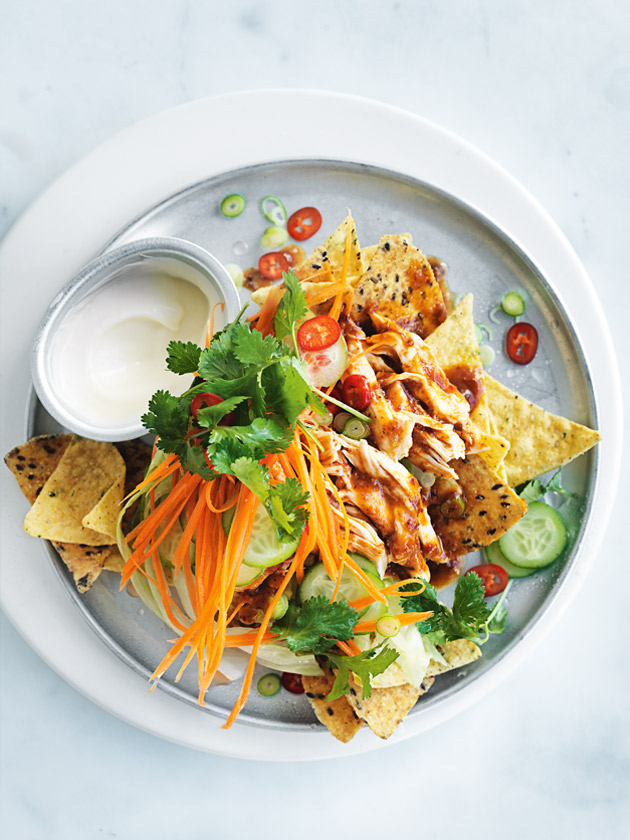 1 x store-bought barbecue chicken, skin removed and shredded

¼ cup (80g) Asian chilli jam

¼ cup (60ml) lime juice

½ cup (150g) whole-egg mayonnaise

sea salt and cracked black pepper

6 cups (210g) store-bought seeded corn chips+

½ small iceberg lettuce (250g), shredded

1 small cucumber, thinly sliced

1 carrot, shredded

2 green onions, thinly sliced

1 long red chilli, thinly sliced

coriander leaves, to serve

Place the chicken, chilli jam and 2 tablespoons of the lime juice in a bowl and mix to combine. Set aside.

Place the mayonnaise, remaining lime juice, salt and pepper in small bowl and mix to combine.

Divide the chips between plates, top with the chicken, lettuce, cucumber, carrot, green onions, chilli and coriander and serve with the lime mayonnaise. Serves 4.

+ Seeded corn chips are available from selected supermarkets and health food stores. Substitute with regular corn chips.

Robert Nieboer
I love this recipe! I used green chilli jam and the flavours and textures of this dish are unbelievably delicious. I'd eat this every day. Thanks Donna!
Jamie-lee Fischer
Absoloutly yummy, my husband was not keen on trying this but raved about it since having it.
Katie Bradford
Easy and very tasty. Will definitely make again.
Peta Shepherd
I made this for dinner tonight and my 17 year old son said it was "bloody wicked". I added halved cherry tomato's & pomegranate seeds (apparently called Arils). Absolutely delicious!
Melanie Colvin
Donna's recipe collection is so great for time pressed cooks. This meal is no exception, super flavours and textures, it will make regular visits to our table, yummy. First tried on holiday in Adelaide from NZ.
Fiona Burge
Sensational. Looked a HUGE meal on the plate, but we all devoured it. Such a healthy, fresh alternative to the normal cheese laden nachos. Definately will cook again!