elderflower and lemon cake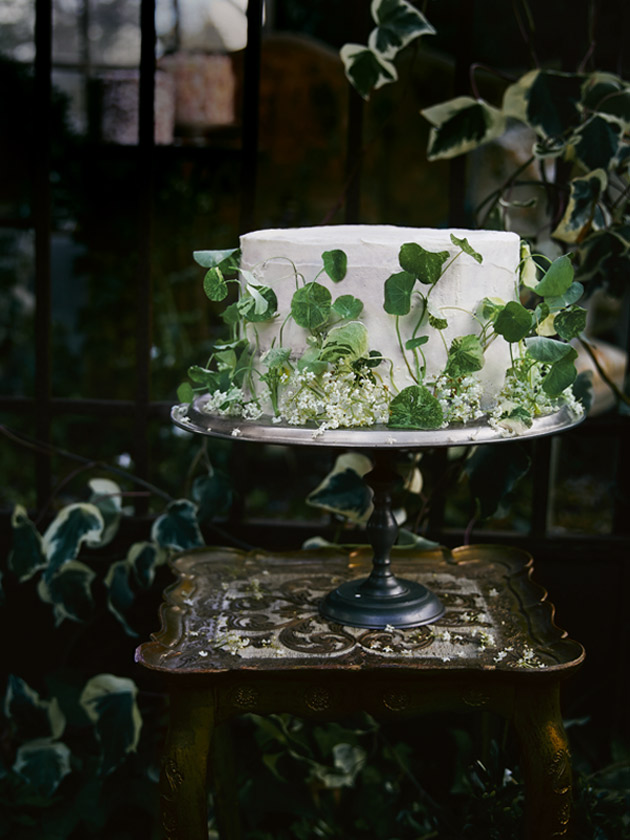 2⅔ cups (580ml) water

¼ cup (60ml) elderflower cordial

375g unsalted butter, chopped

6 cups (900g) plain (all-purpose) flour, sifted

3 teaspoons bicarbonate of (baking) soda

1 cup (120g) almond meal (ground almonds)

6 cups (1320g) caster (superfine) sugar

6 eggs

1½ cups (375ml) buttermilk

1 tablespoon vanilla extract
1 tablespoon finely grated lemon rind
nasturtium leaves and elderflowers+, to serve
lemon buttercream icing
500g unsalted butter, chopped and softened

4 cups (640g) icing (confectioner's) sugar, sifted
2 teaspoons lemon juice
Preheat oven to 160°C (325°F). Line 3 x 22cm lightly greased round cake tins with non-stick baking paper and set aside.
Place the water, cordial and butter in a small saucepan over medium heat and cook until the butter is melted. Set aside.
Place the flour, bicarbonate of soda, almond meal and caster sugar in a large bowl and whisk to combine. Add the eggs, buttermilk, vanilla, lemon rind and butter mixture and whisk until smooth.
Pour the mixture into the prepared tins and cook for 1 hour 10 minutes or until cooked when tested with a skewer. Set aside to cool in the tin for 15 minutes before turning out.
To make the icing, place the butter, icing sugar and lemon juice in the bowl of a stand mixer and beat for 12 minutes, scraping the sides of the bowl until pale and creamy.
To assemble the cake, trim the top of each cake to an even height. Halve each cake horizontally to make 6 even layers. Place the bottom layer on a cake stand or serving plate and, using a palette knife, spread with 1 cup of the icing.
Repeat, layering the cake and buttercream, spreading the remaining icing over the top and sides of the cake, smoothing to finish.
Decorate with nasturtium leaves and fresh elderflowers to serve. Serves 12–14.
+ Elderflowers are available from specialty grocers.
donna hay team
Hi Carolyn, Yes you can freeze this cake without the buttercream icing. The cake can either be frozen whole or sliced horizontally. Happy baking!
Carolyn Hunt
I am wanting to make this cake for my mums 80th birthday and have to travel a distance from home, does the cake freeze well (without the butter cream icing) ??
donna hay team
Hi Elizabeth, if you can't find a 22 cm pan, you can use either a 20 cm or 23 cm tin however we are unsure on cooking times as we have not tested the recipe like this. We recommend checking the cake at intervals to make sure the cake does not over cook. Hope this helps! the dh team
donna hay team
Hi Phuong, to make this nut free, depending on which seed you prefer, you can use ground sunflower seeds or ground pepita seeds. Note, the pepita seeds will make the colour slightly green. Happy baking! the dh team
Phuong Waugh
Hi DH team, I'm really keen on making this gorgeous cake but there's a nut allergy in the family. Is it possible to substitute the almond meal?
Elizabeth Shaw
I can't find a 22cm pan anywhere? Any advice on using a 20cm or 23cm cake tin instead?
Karlie Teis
This cake is the most delicious cake I have ever made. I made it for my sister's baby shower and there was not one piece left.