beetroot and maple glazed salmon
with horseradish cream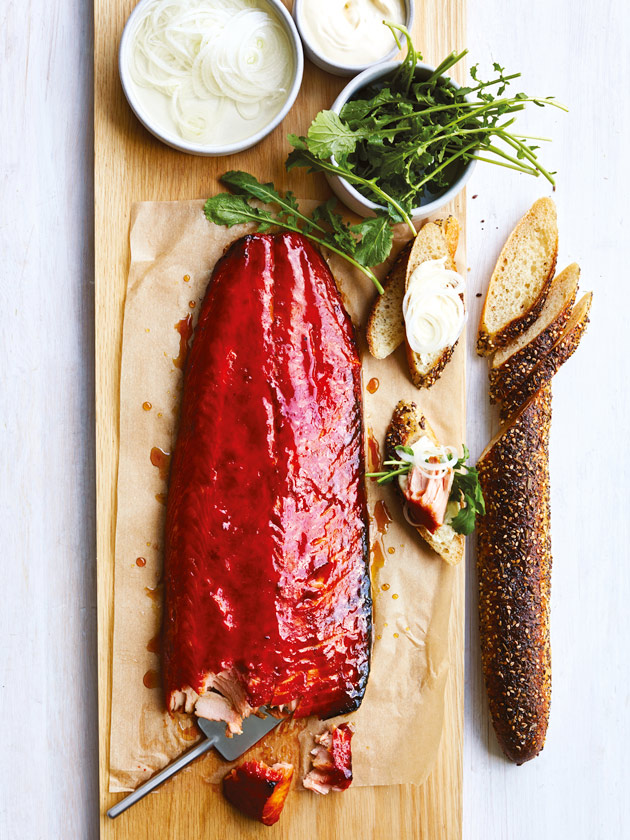 1 x 1.2kg side sashimi-grade salmon, skin on
4 large beetroot (1kg), trimmed and coarsely grated
2 tablespoons light brown sugar
2 tablespoons fennel seeds
⅓ cup (100g) rock salt
1 bunch dill (about 6 sprigs), chopped
½ cup (125ml) maple syrup
baby rocket (arugula) leaves, to serve
sourdough baguette, sliced to serve
horseradish cream
1 cup (240g) crème fraîche
1½ tablespoons grated horseradish
sea salt and cracked black pepper
Place the s

almon, skin-side down, to fit

snugly in a deep-sided non-reactive baking dish. Place the beetroot, brown sugar, fennel seeds, rock salt and dill in a large bowl and mix to combine. Pour the mixture over the salmon, ensuring the salmon is completely covered. Cover with plastic wrap and refrigerate for 2 hours. Turn the salmon over and re-cover with the beetroot mixture and plastic wrap. Refrigerate for a further 2 hours.
Preheat oven to 240°C (475°F). Line a large baking tray with non-stick baking paper. Remove the salmon from the dish, wipe off any excess beetroot mixture and place, skin-side down, on the tray. Place the maple syrup in a small saucepan over medium-high heat. Cook, stirring, for 5 minutes or until reduced and syrupy. Brush the salmon with the maple glaze and place in the oven. Roast, brushing every 8 minutes with the glaze, for 20–25 minutes or until dark golden.
To make the horseradish cream, place the crème fraîche, horseradish, salt and pepper in a small bowl and mix to combine.
Place the salmon, pickled onion, horseradish cream and rocket on a platter and serve with the sourdough slices. Serves 8–12 as a starter
Donna's note: I like to pass around this impressive starter before Christmas lunch, usually while presents are being opened. It's great for parties, too. Needless to say, the salmon pairs perfectly with a glass of Champagne and, between you and me, it's simpler to master than it looks.
Photography: Con Poulos
donna hay team
Hi Olivia, this one is best served warm, however it also makes great left overs cold the next day. Happy cooking!
Olivia Horsham
Hello, this recipe looks lovely and will try it for Xmas
Just wondering if you serve the salmon hot or cold ? I guess it's hot as not mentioned but I prefer to double check. To know if I need to cook it last minute or could do it in advance. Thank you