beetroot ravioli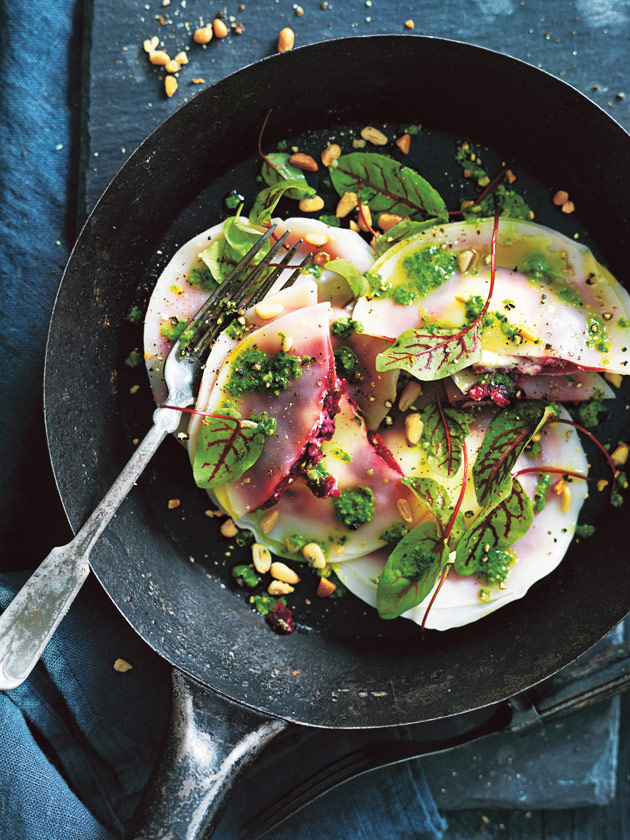 600g purple beetroot, peeled and chopped

4 cloves garlic

1 tablespoon extra virgin olive oil

sea salt and cracked black pepper

¾ cup (180g) fresh ricotta

2 teaspoons finely grated lemon rind

24 gow gee wrappers

1 egg, lightly beaten

red-vein sorrel leaves, to serve (optional)
spinach and basil pesto
100g English spinach, shredded

4 anchovies

¼ cup (40g) toasted pine nuts, plus extra to serve

½ cup basil leaves

1 tablespoon lemon juice

¼ cup (60ml) water

Preheat oven to 200°C (400°F). Place the beetroot, garlic, oil, salt and pepper in a deep-sided baking dish and toss to combine.
Cover with aluminium foil and cook for 40 minutes or until the beetroot is tender. Set aside to cool slightly.
Squeeze the garlic cloves out of their skins. Add to the beetroot and, using a potato masher, mash until roughly mashed.
Place the ricotta, lemon rind, salt and pepper in a bowl. Stir to combine.
Place 1 tablespoon of the mashed beetroot and 1 teaspoon of the ricotta mixture in the centre of a gow gee wrapper. Brush the edge with the egg, place another wrapper on top and press edges to enclose the filling. Repeat with remaining filling and wrappers.
Cook the ravioli in a large saucepan of salted boiling water for 3–4 minutes or until tender. Remove with a slotted spoon.
While the ravioli is cooking, make the pesto. Place the spinach, anchovies, pine nuts, basil, lemon juice, water, salt and pepper in a small food processor and process until smooth. Divide the ravioli between plates. Top with the pesto, sorrel, if using, and extra pine nuts to serve. Serves 4.

There are no comments for this entry yet.