chocolate buttermilk layer cake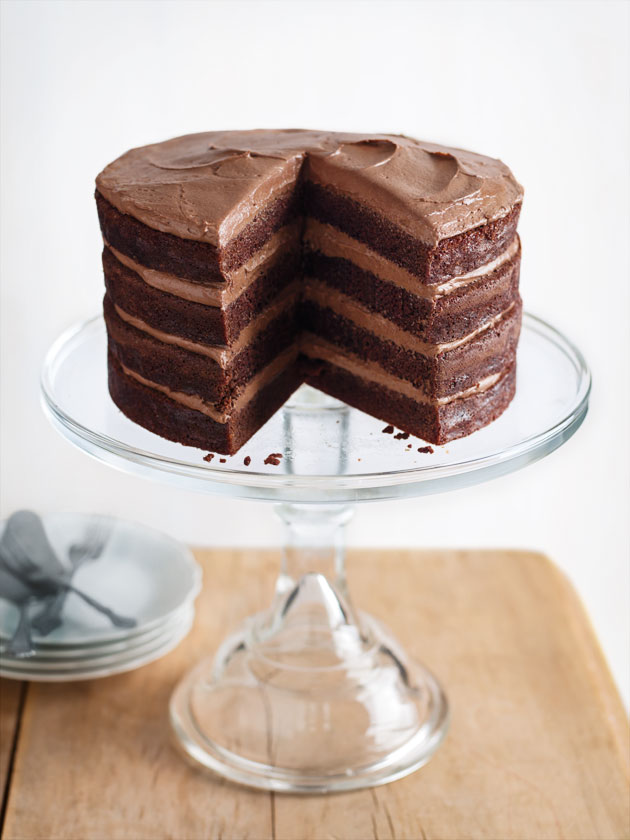 1½ cups (375ml) water

190g unsalted butter, chopped

½ cup (50g) cocoa, sifted

3 cups (450g) plain (all-purpose) flour, sifted

1½ teaspoons bicarbonate of (baking) soda, sifted

3 cups (660g) caster (superfine) sugar

3 eggs

¾ cup (180ml) buttermilk

1½ teaspoons vanilla extract

chocolate cream cheese frosting
100g unsalted butter, softened

500g cream cheese, chopped

2 cups (320g) icing (confectioner's) sugar mixture, sifted

½ cup (50g) cocoa, sifted

Preheat oven to 160ºC (325ºF). Place the water, butter and cocoa in a medium saucepan over medium heat and stir until the butter is melted. Place the flour, bicarbonate of soda and sugar in a bowl, add the cocoa mixture and whisk to combine. Add the eggs, buttermilk and vanilla and whisk to combine. Divide the mixture between 2 x 20cm-round lightly greased cake tins lined with non-stick baking paper. Bake for 65–70 minutes or until cooked when tested with a skewer. Allow to cool in the tins for 10 minutes before turning out onto wire racks to cool completely.
To make the frosting, place the butter and cream cheese in an electric mixer and beat for 6–8 minutes or until pale and creamy. Scrape down the sides of the bowl, add the icing sugar and cocoa and beat for a further 6–8 minutes or until pale and fluffy.
Trim the tops from the cakes and slice in half horizontally. Place one cake layer on a plate and spread with ¼ of the frosting. Repeat with remaining layers and frosting. Serves 6–8.

donna hay team
Hi Stacey, yes you can freeze this cake, but we haven't tested this so we can't guarantee it will turn out the same. The DH Team.
Stacey Childs
Does this cake freeze well?
If I made (or defrosted) this cake & iced it the day before party, does it need to be stored in fridge?
Thank you
Rajiv Kumar
It's toooo Awesome!!! thanks for sharing this wonderful article…
Nicole-Brook Huebner
I've been making this recipe for years & it's my absolute favourite go to chocolate cake recipe. It's always moist, rich & delicious without being dry or too sweet. The icing is fantastic!! I use this recipe for cupcakes too
Shona Cameron
The cake was a bit bland and too heavy but the icing was amazing!