classic apple pie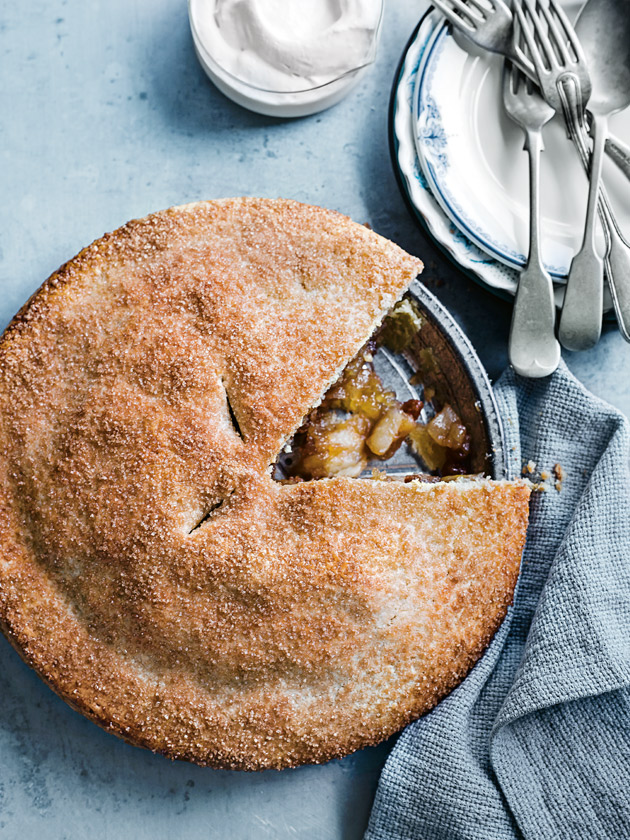 10 Granny Smith apples, peeled, cored and chopped into 1½ cm cubes

1½ tablespoons lemon juice

1 cup (220g) Demerara sugar, plus extra, for sprinkling

½ cup (80g) sultanas (optional)

1 teaspoon ground cinnamon

1 teaspoon vanilla extract

2 sheets store-bought shortcrust pastry

⅓ cup (40g) almond meal

1 eggwhite, lightly beaten
single (pouring) cream, whipped, to serve

Preheat oven to 200°C. Place the apple, lemon juice and sugar in a large saucepan over medium heat and cook, stirring, for 20 minutes or until the apple is softened and the liquid is absorbed. Transfer to a bowl and refrigerate until cooled completely.
Add the sultanas (if using), cinnamon and vanilla to the cooled apple mixture and mix to combine. Set aside.

Line the base of a lightly greased 20cm metal pie tin with a sheet of pastry, trimming any excess. Sprinkle over the almond meal and pack the apple mixture tightly into the pastry shell.
Top with the remaining pastry. Press the edges to seal and trim excess pastry. Cut

3 slits in the top of the pastry, brush with eggwhite and sprinkle with extra sugar. Cook for 30–35 minutes or until pastry is golden and crisp. Serve with whipped cream. Serves 8
Wendy Mavrick
I made this for a dinner party along with the classic custard & it received rave reviews on both. Was absolutely delicious!!! Next time I will add a little less sugar to the pie, maybe 2/3's of a cup as it was just a tad sweet for my taste. I totally forgot to add the sugar to the top, hopefully I'll remember next time. This recipe is going straight to my favourites
Rebecca Diepenheim
Absolutely delicious! Best Apple pie recipe I've ever made. My now - go-to pie recipe!
I added some pomegranate molasses into the apple mixture as well - it adds an amazing tartness that suits it well.
Andrew Stewart
I added raspberries instead of sultanas. Then spooned the mixture into ramekins and topped off with puff pastry cut in a square. Wow, very tasty.