buttermilk puddings
with passionfruit syrup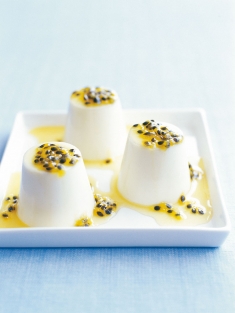 2 teaspoons powdered gelatine

1 cup (250ml) buttermilk

1¾ cups pouring (single) cream

¼ cup (55g) caster (superfine) sugar

passionfruit syrup
¼ cup (55g) white sugar

⅓ cup (80ml) water

⅓ cup (80ml) passionfruit pulp*

To make the passionfruit syrup, place the sugar and water in a small saucepan over low heat and stir, brushing down the sides of the saucepan, until dissolved. Stir through the passionfruit pulp and set aside.

Soften the gelatine in 2 tablespoons of the buttermilk and set aside. Heat a separate small saucepan over low heat.

Place the remaining buttermilk, cream and sugar in the saucepan and stir until dissolved. Stir through the gelatine mixture. Pour into 6 x ½ cup-capacity (125ml) moulds and refrigerate for 2 hours or until set. To serve, turn out and top with the passionfruit syrup. Serves 6.

* When buying passionfruit, look for small fruit with deep purple skin which is quite leathery and wrinkled. This indicates ripeness. Panama passionfruit, which are slightly larger and have a less tart flavour than the regular variety, do not have wrinkled skin when ripe. Choose panama passionfruit which feel heavy for their size. You will need about 4 passionfruit for #8531; cup pulp or you can buy canned passionfruit pulp from supermarkets.
There are no comments for this entry yet.