broccoli, pumpkin, sage
and goat's cheese tart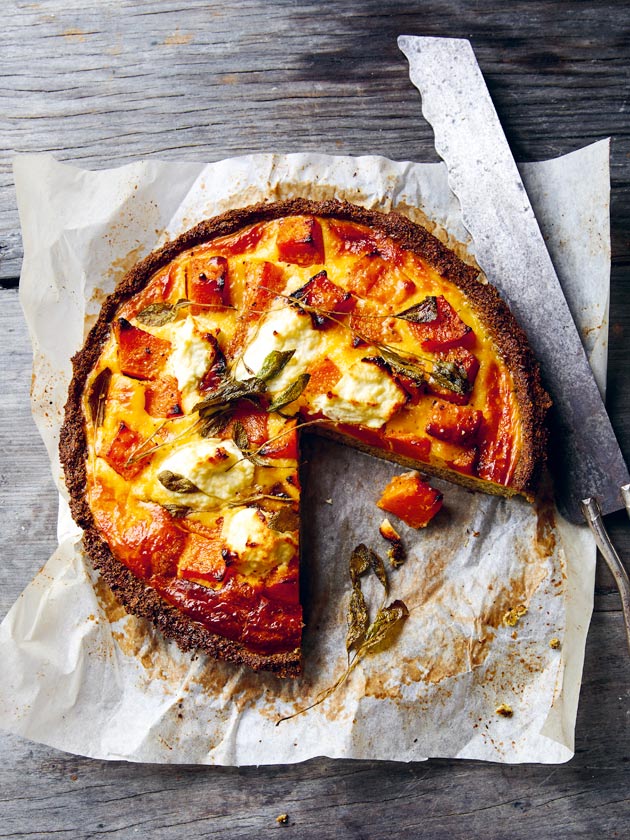 1 x quantity broccoli dough (see recipe link under method)

800g (1 lb 12 oz) pumpkin, peeled and chopped

2 tablespoons extra virgin olive oil

sea salt and cracked black pepper

6 eggs

1 cup (240g/8½ oz) fresh ricotta

16–20 sage leaves

150g (5¼ oz) goat's cheese, broken into large pieces
Preheat oven to 200°C (400°F). Line 2 x 18cm-based 22cm-wide 3cm-high (7 in x 8½ in x 1 in) pie tins with non-stick baking paper. Line a large baking tray with non-stick baking paper.

Divide the dough in half and press evenly over the bases and sides of the pie tins. Place the pumpkin on the baking tray, drizzle with 1 tablespoon of the oil and sprinkle with salt and pepper. Bake the tart shells and pumpkin for 20 minutes or until golden.

Place the eggs, ricotta, salt and pepper in a large bowl and whisk to combine. Place the sage and the remaining 1 tablespoon of oil in a small bowl and toss to coat.

Divide the roasted pumpkin between the tart shells. Top with the egg mixture and sprinkle with the goat's cheese and sage. Bake for a further 25–30 minutes or until golden brown and the egg is set.

Allow tarts to cool slightly in the tins before lifting out and slicing into wedges to serve. Serves 6–8
TIPS + TRICKS
+ These tarts are great served either warm or at room temperature with a simple salad of greens.
+ The broccoli tart shell won't crumble like regular pastry, making it the perfect portable picnic food!
+ To add a smoky bacon flavour to the tarts, cook 4 trimmed and chopped rashers of bacon in a pan until golden. Sprinkle the bacon into the tart shells with the pumpkin.
Photography: Con Poulos
Di Dellow
This was absolutely delicious! Hubby loved it and the dough was so yum and healthy. Thank you!