crispy chilli fish
with Thai lime mayonnaise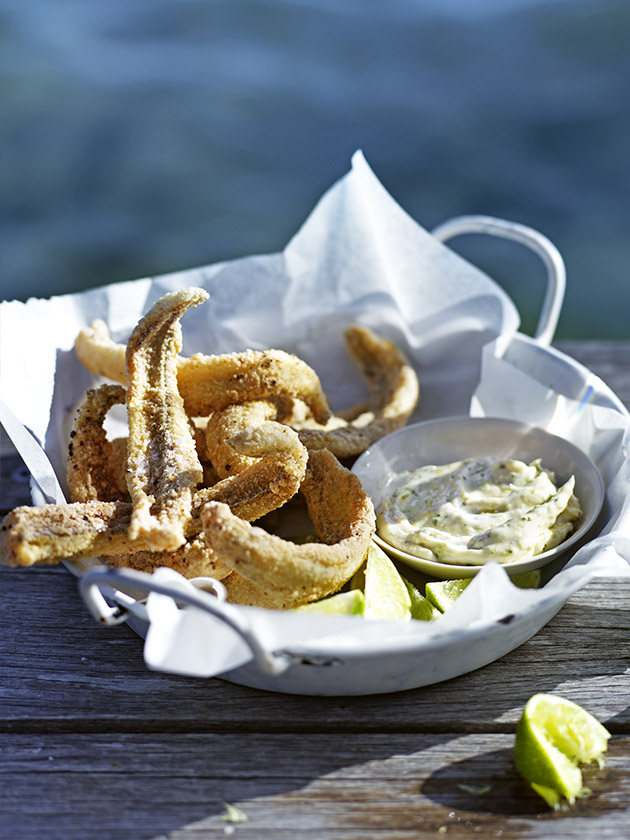 1 teaspoon black peppercorns

1 teaspoons dried chilli flakes

1 tablespoon sea salt flakes

¾ cup (150g) rice flour

2 eggwhites

vegetable oil, for deep-frying

400g white fish fillets+, skin on, sliced

lime wedges, to serve

thai lime mayonnaise
½ cup (150g) Japanese mayonnaise

1 teaspoon finely grated lime rind

2 Thai lime leaves, finely chopped

To make the thai lime mayonnaise, place the mayonnaise, lime rind and lime leaves in a small bowl and mix to combine. Set aside.

Place the peppercorns and chilli flakes in a mortar and pound with a pestle until fine. Place in a medium bowl, add the salt and flour and mix to combine. Place the egg whites in a separate medium bowl and whisk until foamy. Half-fill a large saucepan with oil and place over medium heat until the temperature reaches 180°C (350°F) on a deep-frying thermometer.
Dip the fish, in batches, in the egg then place in the flour mixture, tossing to coat. Cook for 1–2 minutes or until golden brown. Remove using a slotted spoon and place on a wire rack to drain. Serve with the lime mayonnaise and lime wedges. Serves 4.
+ We used whiting fish fillets, but flathead or snapper will also work well.
Wine note: the delicate flavour of whiting with an accent of lime makes it a perfect match to the Cloudy Bay Sauvignon Blanc.

There are no comments for this entry yet.