classic slaw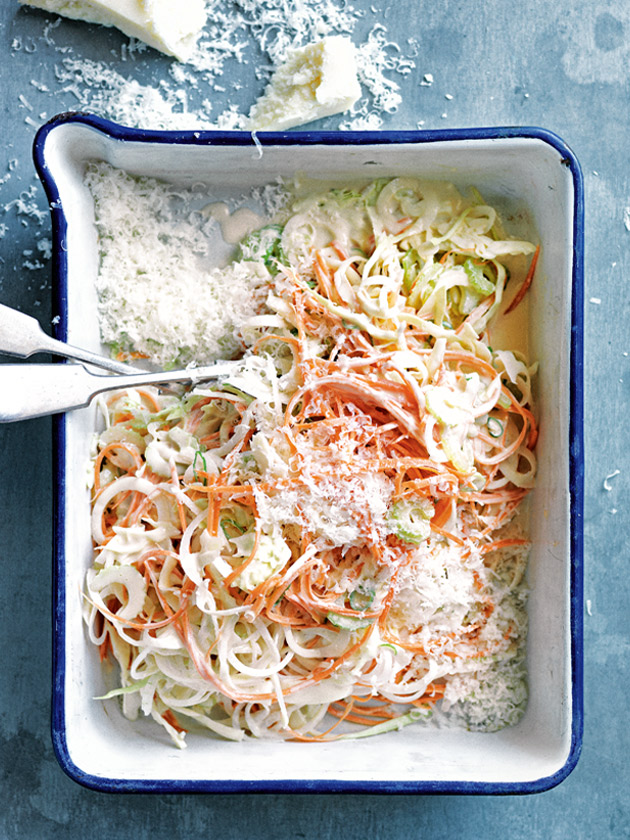 500g savoy cabbage, thinly sliced

2 carrots, peeled and shredded+

3 stalks celery, trimmed and thinly sliced

2 green onions, thinly sliced

1 white onion, thinly sliced

finely grated parmesan, to serve

mustard-mayonnaise dressing
¾ cup (225g) whole-egg mayonnaise

3 teaspoons mustard powder

1 tablespoon brown sugar

1 tablespoon malt vinegar

1 tablespoon lemon juice

sea salt and black cracked pepper

To make the mustard-mayonnaise dressing, place the mayonnaise, mustard powder, sugar, vinegar, lemon juice, salt and pepper in a large bowl and whisk to combine.

Add the cabbage, carrot, celery, green and white onion and toss to combine. Transfer the slaw to a serving dish and top with parmesan to serve. Serves 4.
+ To shred carrot use a julienne peeler. This looks like a conventional vegetable peeler, but has little 'teeth' that help create strips of vegetables.
There are no comments for this entry yet.