honey-roasted chicken with chickpea and roast vegetable salad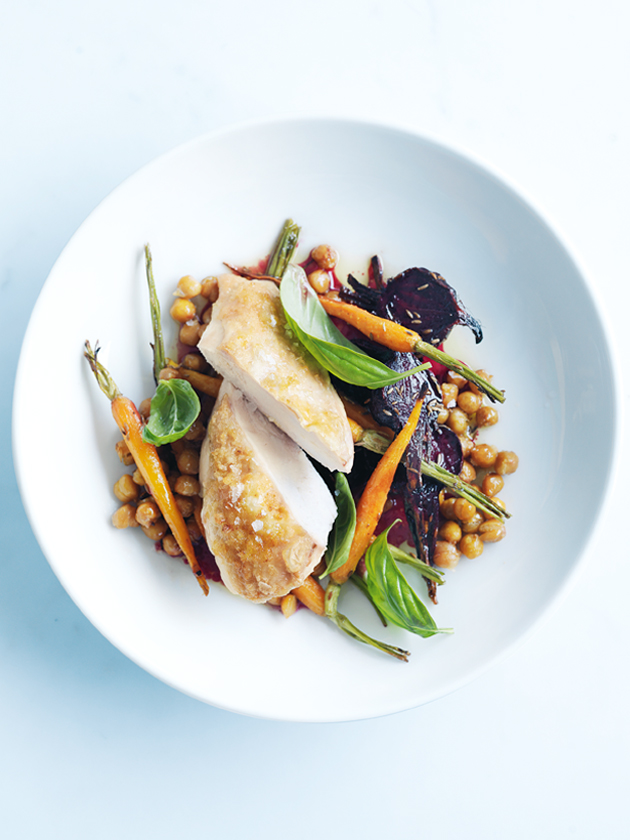 400g baby beetroot, trimmed and halved
400g baby carrots, peeled
¼ cup (90g) honey
2 tablespoons extra virgin olive oil
1 teaspoon cumin seeds, toasted
sea salt and cracked black pepper
4 x 200g chicken breast fillets, skin on
2 x 400g cans chickpeas (garbanzos), drained and rinsed
1 cup basil leaves

Preheat oven to 200ºC (400ºF). Place the beetroot, carrots, honey, 1 tablespoon of the oil, cumin and salt and pepper on a large baking tray and toss to coat. Roast for 10 minutes.

Add the chicken and chickpeas to the tray, drizzle with the remaining oil and roast for a further 25–30 minutes or until the chicken is cooked through.

Top the chickpeas and vegetables with the sliced chicken and basil leaves to serve. Serves 4.

There are no comments for this entry yet.