spiced lamb skewers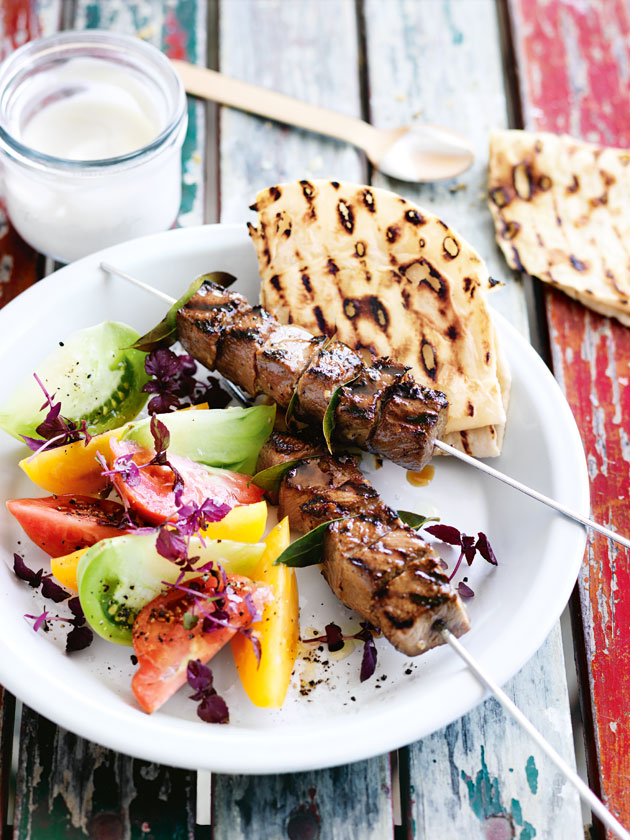 800g lamb backstrap (boneless loin), chopped
24 fresh bay leaves
¼ cup (60ml) malt vinegar
¼ cup (45g) brown sugar
4 cloves garlic, crushed
1 teaspoon ground coriander
1 teaspoon mustard powder
2 tablespoons extra virgin olive oil, plus extra, for brushing and drizzling
sea salt and cracked black pepper
4 x store-bought naan breads
1 cup (240g) thick Greek-style (natural) yoghurt
sliced heirloom tomatoes, and baby (micro) purple basil leaves (optional), to serve

Thread the lamb and bay leaves onto skewers and place on a baking tray.
Place the vinegar, sugar, garlic, coriander, mustard, oil, salt and pepper in a bowl and stir to combine. Pour the marinade over the skewers, turning to coat evenly, and place in the fridge to marinate for 30 minutes. Preheat a char-grill pan or barbecue over high heat. Cook the skewers for 2–3 minutes each side for medium-rare or until cooked to your liking.
Brush the naan bread with oil and cook for 1 minute each side or until just charred. Serve the skewers with the bread, yoghurt, tomatoes, basil and drizzle with olive oil to serve. Makes 8.

There are no comments for this entry yet.