thai green curry chicken skewers
with ginger quinoa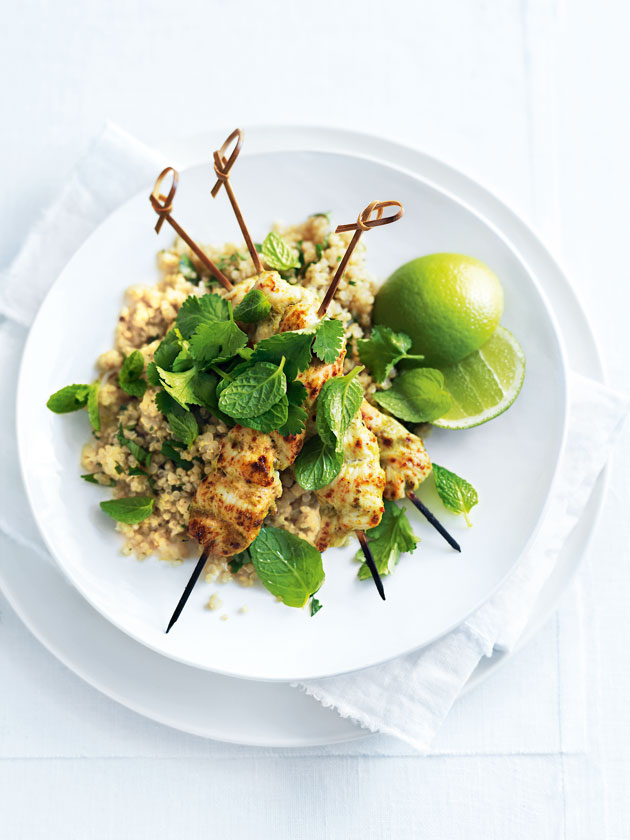 2 tablespoons Thai green curry paste
¼ cup (60ml) coconut cream
4 x 150g chicken breast fillets, sliced
3 cups cooked white quinoa (see tip)
1 tablespoon finely grated ginger
½ cup chopped coriander (cilantro) leaves
2 green onions (scallions), finely chopped
1 teaspoon sesame oil
lime cheeks, mint and extra coriander (cilantro) leaves, to serve

Place the curry paste and coconut cream in a bowl and mix to combine. Thread the chicken onto skewers and place on a baking tray lined with non-stick baking paper. Spread the curry mixture over the chicken to coat. Cook the skewers under a preheated hot grill (broiler) for 5–7 minutes or until cooked through.
Place the quinoa, ginger, coriander, onion and sesame oil in a bowl and toss to combine. Divide the quinoa between serving plates, top with the chicken and serve with lime, mint and coriander. Serves 4

TIP:
To cook basic quinoa place 1½ cups (300g) rinsed white quinoa and 2 cups (500ml) chicken or vegetable stock in a saucepan over medium-high heat and bring to the boil. Reduce heat to low, cover and cook for 12–14 minutes or until the stock has been absorbed and the quinoa is tender. Remove from the heat and stand for 5 minutes. Stir with a fork to separate the grains and serve hot or cold. Store cooked quinoa in an airtight container in the refrigerator for up to 2–3 days. Makes approximately 3 cups.
Photography: William Meppem
There are no comments for this entry yet.