pork, ginger and water chestnut pot stickers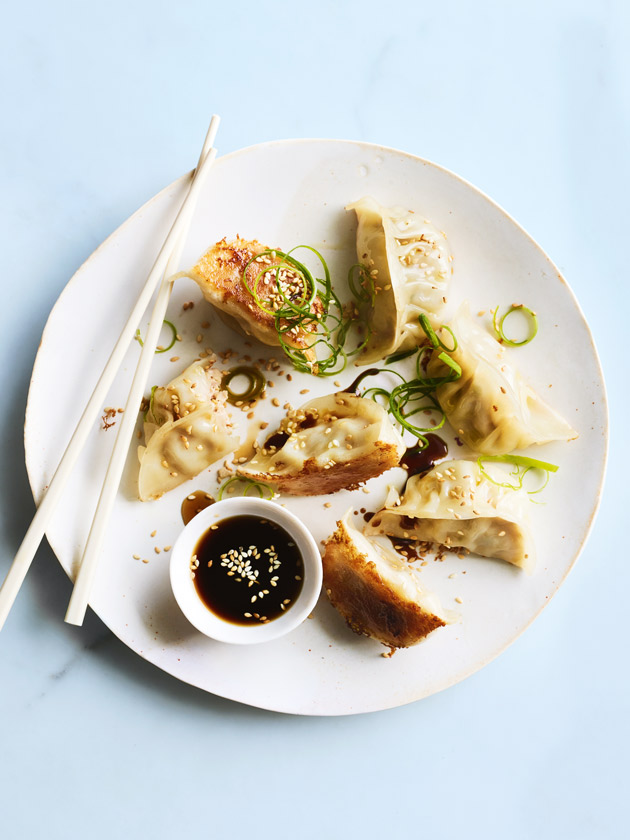 250g pork mince

2 cloves garlic, crushed

2 green onions, finely chopped

2 tablespoons finely grated ginger

1 tablespoon oyster sauce

½ cup (90g) sliced water chestnuts, finely chopped

sea salt flakes

30 store-bought gow gee wrappers

1 tablespoon vegetable oil

1 cup (250ml) water

soy sauce, toasted sesame seeds and shredded green onion, to serve

Place the pork, garlic, onion, ginger, oyster sauce, water chestnuts and salt in a medium bowl and mix well to combine. Place the gow gee wrappers on a clean work surface and brush the edges of each wrapper with water. Place 2 teaspoons of the pork mixture in the centre of each wrapper and pinch the sides together to seal. Set aside.

Heat half the oil in a 16cm non-stick frying pan over medium heat. Add half the dumplings, flat-side down, and cook for 3 minutes. Pour over half the water, cover with a tight-fitting lid and cook for a further 3 minutes. Uncover and cook for 3–4 minutes or until the water has evaporated and dumplings are golden and crispy on the bottom.

Place the dumplings on a plate and repeat with the remaining oil, dumplings and water. Top with soy sauce, sesame seeds and green onion to serve. Makes 30.
+ You can find gow gee wrappers at Asian supermarkets and selected greengrocers.
+ While you're making the dumplings, keep your gow gee wrappers under a damp tea towel to prevent them from drying out.
There are no comments for this entry yet.