sticky pork spare ribs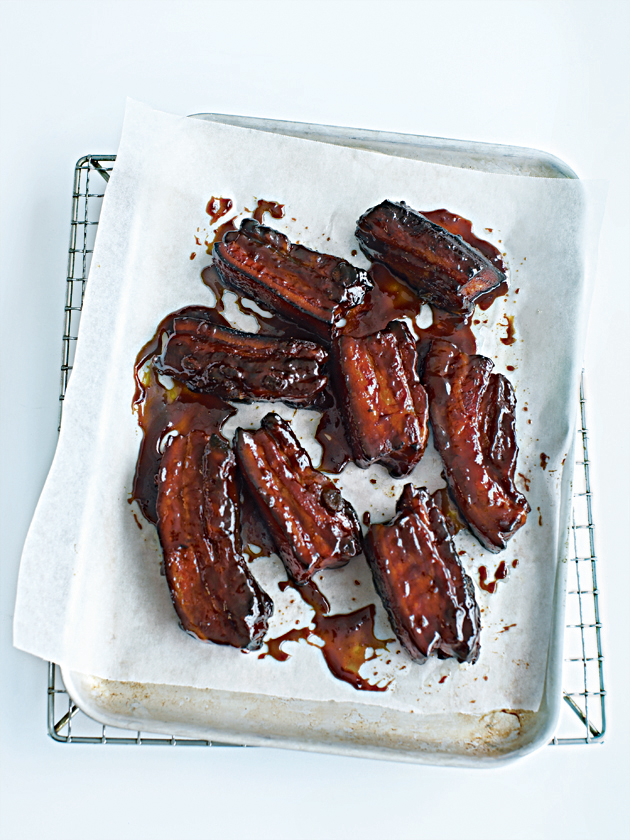 ½ cup (125ml) hoisin sauce
½ cup (90g) brown sugar
½ cup (125ml) oyster sauce
8 cloves garlic, crushed
1 tablespoon finely grated ginger
1 cup (250ml) water
16 pork spare ribs (about 2kg)

Preheat oven to 180ºC (355ºF). Place the hoisin, sugar, oyster sauce, garlic, ginger and water in a bowl and mix to combine.
Place pork in a large baking dish and pour over hoisin mixture. Cover with aluminium foil and cook for 1 hour 15 minutes. Remove the foil and cook for 25 minutes. Increase the heat to 200ºC (390ºF) and cook for a further 20 minutes. Set aside and allow to cool.
Divide the pork and sauce into 4. Place in airtight containers or zip-lock bags and freeze for up to 3 months. To defrost, place on a tray in the fridge overnight.

short order
+ soba noodle salad
Cook 400g soba in boiling water until tender. Drain. Combine with 1 bunch blanched broccolini, 200g blanched snow peas, 1 cup coriander (cilantro) leaves, 1 tablespoon soy sauce and 1 teaspoon sesame oil. Place 1 quantity chopped pork and sauce in a frying pan over high heat and cook for 3 minutes. Add to noodles. Serves 4.

+ pork and chive wontons
Combine 1 quantity chopped pork and sauce, 1 tablespoon chopped chives and 1/3 cup chopped water chestnuts. Spoon onto 8 wonton wrappers. Brush edges with water and top with 8 wrappers. Press edges to seal. Brush with oil and bake in a 200ºC oven for 10 minutes or until crisp. Serve with salad and dipping sauce. Serves 4.

+ fried rice

Heat 1 tablespoon oil in a large frying pan over high heat. Add 1 tablespoon chopped ginger, ¼ cup chopped green onion (scallion), 1 chopped long red chilli, 150g button mushrooms, 200g cabbage and 1 quantity chopped pork and cook for 2 minutes or until browned. Add ½ cup peas, 2 cups cooked rice and pork sauce and cook until warmed through. Serves 4.
sarah bruins
Amazing! Very easy to make. Tasty, tender and an all round hit in our house! Re- clean up. Made twice now - made in Pyrex dish first time (soak then cleaned easily) and used Fiona's trick with foil the last time and that worked a treat- thanks!
Fiona smith
Made these for the family and the only problem was there was not enough everyone wanted more.
I put foil into the pan and so when cooked there was no problem with cleaning up
Robyn Colburn
Absolutely loved the flavour but maybe take a bit off the cooking time next time I cook it - husband complained the meat was a little chewy - any tips on getting the dish clean - its really stuck on :(
David Wilde
I'm a dope and I followed the recipe. Nowhere in the recipe does it say to put the ribs on baking paper. Consequently it turned out awesomely and didn't ruin my baking tray.
Andrew Kaye
As nice as it was… It completely ruined my baking tray. Your photo shows the ribs on baking paper, so I assumed that's needed. Don't do it… What a nightmare!!!! Think about us dopes following your recipes rather than what looks fancy in a photo!