sticky pork with rice noodles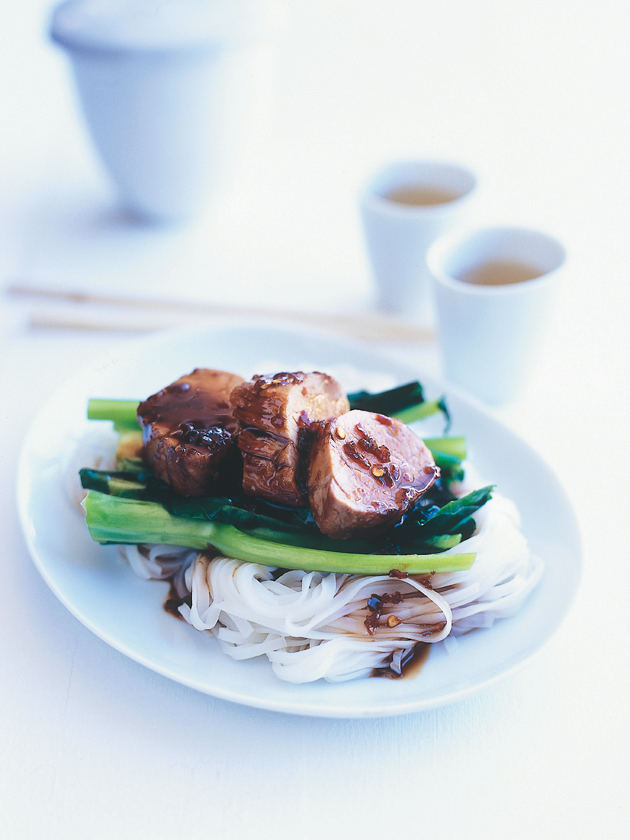 180g rice stick noodles
¼ cup honey
2 tablespoons soy sauce
2 tablespoons oyster sauce
½ cup (125ml) water
½ teaspoon chilli powder
1 clove garlic, crushed
2 x 300g pork fillets
vegetable oil, for brushing
1 tablespoon vegetable oil, extra
1 tablespoon finely grated ginger
1 bunch (350g) gai larn (Chinese broccoli), blanched and halved

Place the noodles in a bowl and cover with boiling water for 10 minutes or until separated and tender. Drain and set aside.

Place the honey, soy, oyster sauce, water, chilli and garlic in a bowl and stir to combine. Set aside. Heat a frying pan over high heat. Brush the pork with oil and cook for 1 minute each side. Add the honey mixture, cover, reduce heat to low and simmer for 6–8 minutes or until pork is cooked through and the sauce is thickened. Remove from the heat and slice.

Heat a wok or large frying pan over medium heat. Add the oil, ginger and gai larn and cook, stirring, for 2–3 minutes or until the gai larn is tender. Divide the noodles and gai larn between plates, top with the pork and ladle over the sauce to serve. Serves 4.

There are no comments for this entry yet.