basic vanilla marshmallow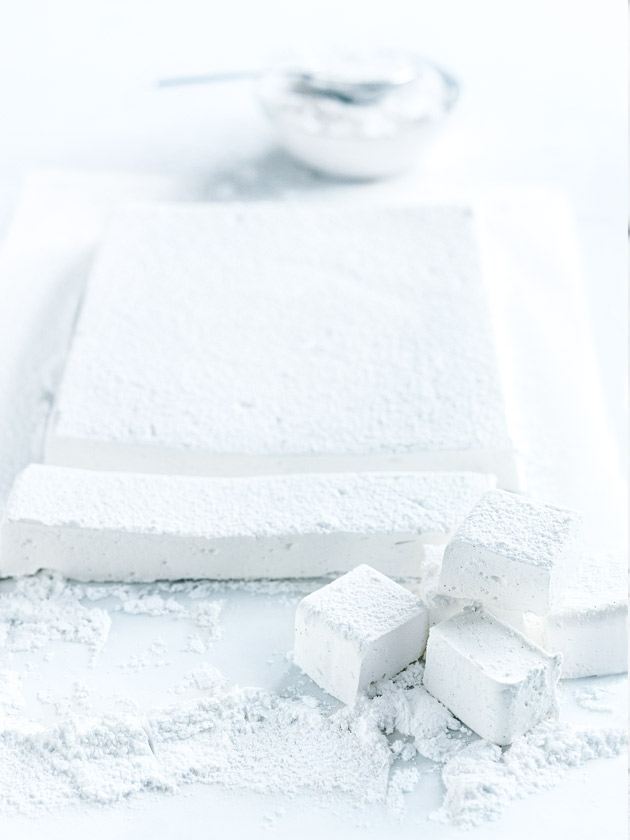 ½ cup (125ml) warm water

2 tablespoons gelatine powder

1½ cups (330g) caster (superfine) sugar

⅔ cup (230g) liquid glucose+

½ cup (125ml) water, extra

1 vanilla bean, split and seeds scraped
icing sugar mixture
1½ cups (240g) icing (confectioner's) sugar, sifted

¼ cup (35g) cornflour (cornstarch), sifted

Place the warm water in an electric mixer, sprinkle over the gelatine and stir to combine. Set aside. Place the sugar, glucose and extra water in a medium saucepan over low heat and cook, stirring, until the sugar is dissolved. Increase heat to high and bring to the boil. Add a sugar (candy) thermometer and cook, without stirring (for approximately 5–7 minutes), until the temperature reaches 115°C (239°F) or soft ball stage.

With the mixer running on high, gradually add the hot syrup in a thin, steady stream to the gelatine mixture. Add the vanilla seeds and beat for 5–7 minutes or until thick and fluffy. Working quickly, spoon mixture into a lightly greased 20cm x 30cm tin lined with lightly greased, non-stick baking paper++.

Using a spatula, smooth the top and cover with lightly greased non-stick baking paper (see tips + tricks, page 58). Refrigerate for 1–2 hours or until set.

To make the icing sugar mixture, place the icing sugar and cornflour in a bowl and mix to combine. Turn the marshmallow out onto a surface lightly dusted with some icing sugar mixture. Dust the knife in the icing sugar mixture and cut into squares. Dust the marshmallows with more icing sugar mixture. Makes 40.

+ Liquid glucose is available from the baking aisle in most supermarkets.

++ Ensure you have have enough baking paper hanging over the sides so you can lift the mallow from the tin once it has set.

donna hay team
Hi Maria, you sure can, swap 1 vanilla bean for 1 teaspoon of vanilla bean paste. The DH team x
Maria Zboril
Is it possible to substitute the vanilla bean, for vanilla bean paste? If so, How much?
donna hay team
Hi Michelle, you can store these marshmallows in corn flour in an airtight container for up to a week! Enjoy.
Michelle Giles
Just wondering how far in advance you can make these/ how long they will last?
donna hay team
Hi Kirsty, unfortunately no there isn't…. you can possibly order it on line. The DH team
Kirsty Wilson
Hi there! I live in Zambia and in the middle of the bush, so ingredients are often hard to come by. Is there a substitute for liquid glucose?
Absolutely love your recipes, we have tried many of them in our kitchen.