brown butter cookies with caramelised white chocolate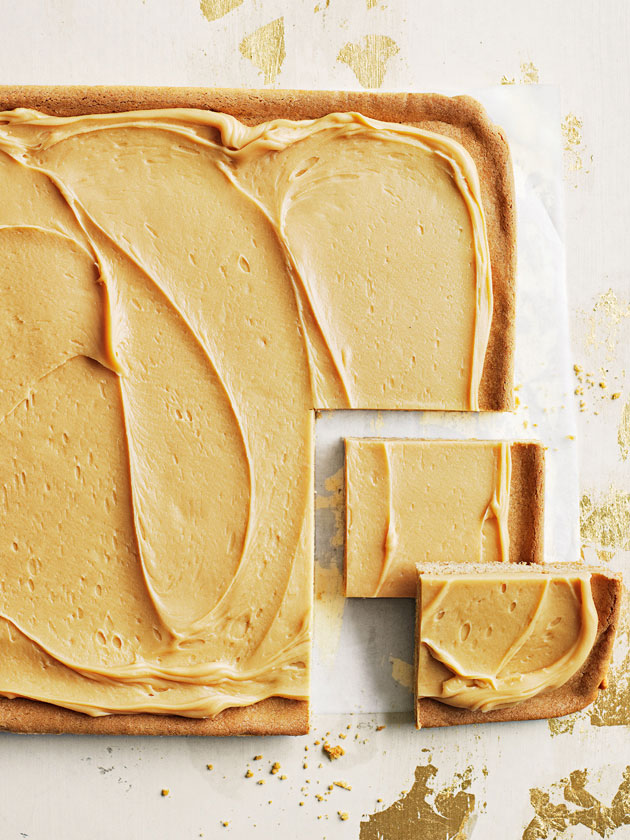 225g unsalted butter, chopped

¾ cup (130g) brown sugar

1 cup (220g) caster (superfine) sugar

1 teaspoon vanilla extract

2 eggs

2½ cups (375g) plain (all-purpose) flour, sifted

1 teaspoon bicarbonate of soda (baking soda), sifted

2 teaspoons cream of tartar, sifted

caramelised white chocolate
720g white chocolate, chopped

1 cup (250ml) single (pouring) cream

Preheat oven to 160°C (325°F). Place the butter in large non-stick frying pan over high heat and stir until melted. Cook for 3–4 minutes or until foamy and golden brown. Transfer to a bowl and set aside for 15–20 minutes to cool. Place the browned butter, sugars and vanilla in the bowl of an electric mixer and beat for 5 minutes or until well combined.
Add the eggs, one at a time, beating well after each addition. Add the flour, bicarbonate of soda and cream of tartar and beat on low speed until just combined. Roll the mixture between 2 sheets of non-stick baking paper to a 30cm x 40cm rectangle and place on a large baking tray.
Cook for 20–22 minutes or until golden brown and the centre is still slightly soft. Allow to cool in the tray.
While the cookie is cooling, make the caramelised white chocolate. Reduce oven temperature to 120°C (250°F) and place the chocolate in a deep-sided medium baking tray. Cook for 10 minutes, remove from oven and spread the chocolate into an even layer with a spatula. Cook, stirring every 10 minutes, for a further 40–45 minutes or until golden brown+. Transfer to a large bowl. Heat the cream in a small saucepan over high heat until just before boiling point. Gradually whisk the cream into the chocolate until smooth.
Spread the warm chocolate mixture evenly over the cookie and refrigerate for 15–20 minutes or until firm. Cut into squares to serve. Serves 10–12.

+ Don't worry if the chocolate looks a little chalky as it cooks in the oven, it will come together smoothly when the cream is added.
Tip: Cookies will keep in an airtight container for 3–4 days.
There are no comments for this entry yet.