choc-filled lamingtons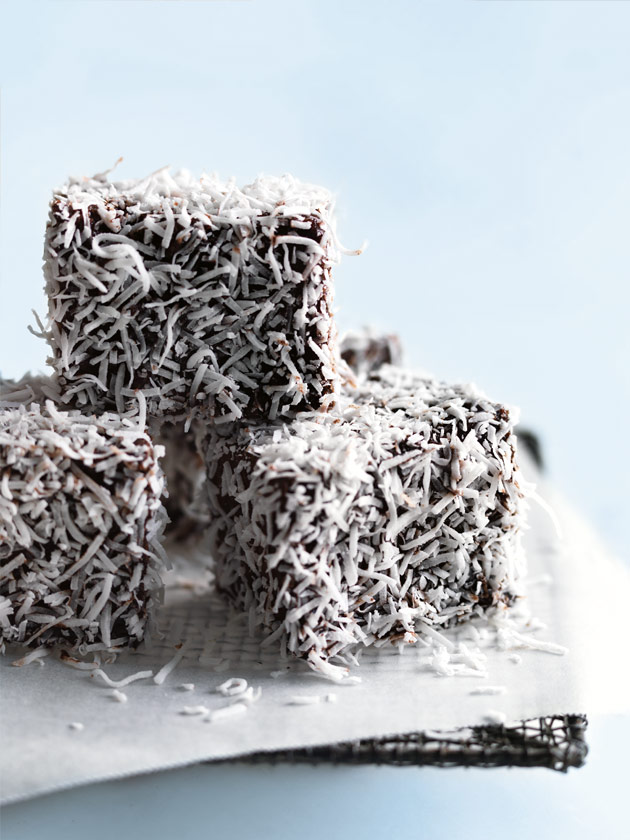 125g unsalted butter, chopped and softened

1¼ cups (275g) caster (superfine) sugar

2 teaspoons vanilla extract

2 eggs

1¾ cups (260g) plain (all-purpose) flour, sifted

1 teaspoon baking powder

½ cup (40g) desiccated coconut

¾ cup (180ml) buttermilk

150g dark chocolate, finely chopped

2 tablespoons single (pouring) cream

4 cups (300g) shredded coconut

icing
3 cups (480g) icing (confectioner's) sugar, sifted

¾ cup (75g) cocoa powder

1 cup (250ml) boiling water

75g unsalted butter, chopped and melted

Preheat oven to 180°C (350°F). Place the butter, sugar and vanilla in the bowl of an electric mixer and beat for 8 minutes or until pale. Add the eggs, one at a time, beating well after each addition.
Add the flour, baking powder and desiccated coconut and mix to combine. Gradually add the buttermilk and beat on low speed to combine. Spoon into a lightly greased 20cm x 30cm tin lined with non-stick baking paper.
Smooth with a palette knife and bake for 25–30 minutes or until golden brown. Set aside for 10 minutes to cool in the tin before transferring to a wire rack to cool completely.

Place the chocolate and cream in a small saucepan over low heat and cook, stirring constantly, for 2–3 minutes or until melted and smooth. Cut the sponge in half and top one half with the chocolate mixture.

Sandwich with the remaining sponge and cut into 12 squares. To make the icing, place the icing sugar, cocoa powder, water and butter in a large bowl and whisk to combine. Place the shredded coconut on a tray. Using a fork, dip 1 lamington in the icing and roll in the shredded coconut.

Place on a wire rack or tray to set. Repeat with remaining lamingtons. Serve. Makes 12.

TIPS + TRICKS
+ For a cheat's version, fill with store-bought chocolate spread or jam.
+ These lamingtons can be stored in an airtight container at room temperature for 1–2 days.
There are no comments for this entry yet.