lamington ice-cream bars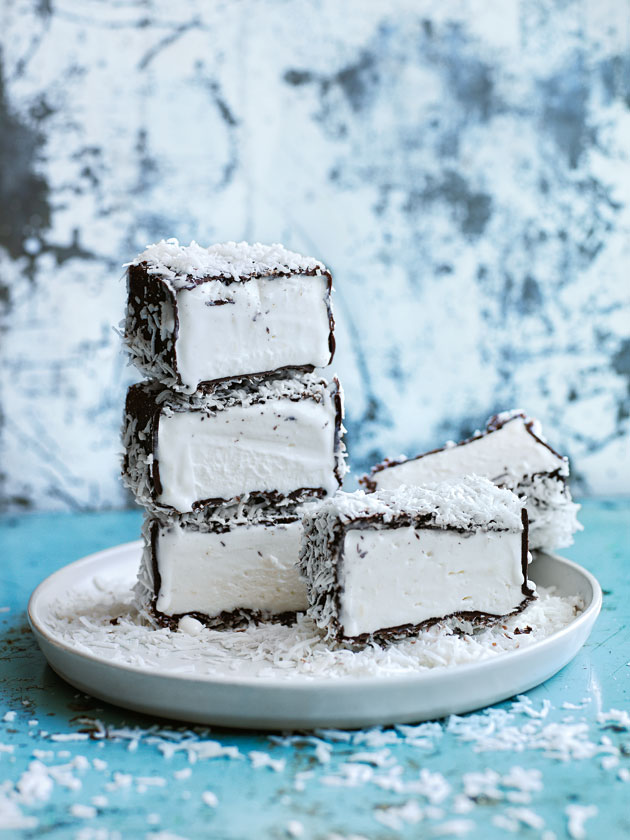 2 litres coconut ice-cream (see tip)
400g dark (70% cocoa) chocolate, chopped
⅓ cup (80ml) vegetable oil
4 cups (300g) store-bought shredded coconut

Line a lightly greased 20cm x 30cm slice tin with non-stick baking paper and place in the freezer until ready to use. Scoop the ice-cream into the bowl of an electric mixer and beat on low speed until softened. Spoon into the prepared tin and spread evenly with a palette knife.
Freeze for 4–5 hours or until frozen. Remove from the tin and slice into 12 bars. Place on a tray lined with non-stick baking paper and freeze for a further 1 hour.
Place the chocolate and oil in a heatproof bowl over a saucepan of simmering water, stirring occasionally, until melted. Remove from the heat and allow to cool completely.
Spread the coconut in a thin layer on a baking tray. Removing the ice-cream in batches from the freezer, using 2 forks, dip each bar into the chocolate and press gently in the coconut to coat.
Return to the freezer immediately for 1–2 hours or until set, and serve. Makes 12.

Tip: Buy coconut ice-cream from specialty food stores and delicatessens.
There are no comments for this entry yet.